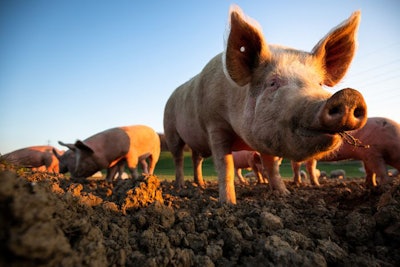 Agriculture minister stresses high level of biosecurity, safe feeding to keep country free from African swine fever
Northern Ireland's Department of Agriculture, Environment and Rural Affairs (DAERA) and Agriculture Minister Edwin Poots are reminding the country's pig owners how to keep the country free from African swine fever (ASF).
ASF is present in several countries in Europe, but the United Kingdom remains free from the disease.
"If the disease were to reach our shores, it could have a devastating effect on export markets and would also require the humane culling of pigs on infected premises to prevent further spread," Poots said in a statement. "I stress the need of maintaining a high level of biosecurity, make sure that your pigs do not access any kitchen waste, only feed your pigs a purchased pig ration and to remain vigilant for signs of disease for early detection of the disease."
Everyone has a part to play in protecting Northern Ireland from animal and plant disease, DAERA said. There are strict rules about bringing food products, plants and plant products into the country, and people should not take meat or meat products into areas where pigs are kept and should only eat food in designated areas such as staff rooms or the farm kitchen. Pig keepers, farm staff and anyone in contact with pigs should wash their hands before and after eating or preparing food.
Farmers have been reminded that it is illegal to feed catering waste or domestic food waste to farm animals in the U.K., including pigs kept as pets.
"You can purchase a range of pig foods from your local agricultural merchant that can be safely fed to your pigs and which is the most reliable way of giving them a balanced diet," Poots said. "The need for consistent excellent biosecurity is also paramount in minimizing disease risk, such as providing dedicated clothing and boots for workers and preventing vehicles which may be contaminated from entering pig premises."
In December 2021, the National Farmers Union (NFU) of Scotland demanded the U.K. government stop imports of pork from EU countries with confirmed cases of African swine fever (ASF).
In a statement on its website, NFU Scotland said that, "without action, the risk of ASF entering the U.K. remains high and, if it does, it has the economically important potential to devastate the domestic pig sector."