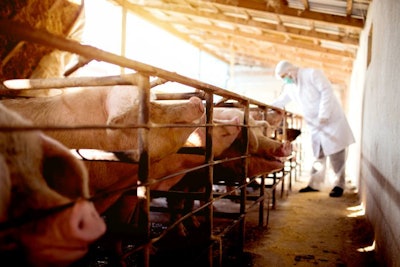 Malaysia has reported its first ASF outbreak in a commercial herd, and new cases have been confirmed in Indonesia.
Several new variants of the African swine fever (ASF) virus have been detected by Chinese scientists. Less lethal to pigs than the previous strains, they make the challenges of disease control — and eventual eradication — even more challenging.
Research from China has revealed the existence of at least four natural variants of the ASF genotype II virus. While variations of this genotype are less lethal than the earlier type I, they make even more challenging the control and eventual eradication of the disease, reports Global Times.
According to scientists at the Harbin Veterinary Research Institute, these latest variants are probably not new. Rather, they are likely to have been the cause of persistent and/or chronic infections and mortalities on pig farms for some time.
Through surveillance across China in the first half of 2020, the team at Harbin identified 22 strains of the genotype II virus.
Great attention should be paid to these new forms of the virus, urged research fellow Zhao Dongming.
According to this source citing data from the agriculture ministry, 63 cases of ASF were confirmed in China in 2019, and 390,000 pigs were culled.
In March of this year, Harbin Institute scientists first reported the emergence of less virulent ASF virus strains.
Since China's first recorded case of ASF in August 2018, the World Organisation for Animal Health (OIE) puts the number of confirmed outbreaks in the country at 187. These directly impacted more than 392,000 animals (as of February 18) this year. Most recent outbreak was at a farm in Inner Mongolia this month.
ASF impacts on China's pork markets
Recent outbreaks of ASF are being blamed for a 40% reduction in wholesale prices of pork in China since the start of 2021.
According to Bloomberg, there was panic selling by farmers as soon as the news broke of further ASF cases. Market impacts were exacerbated by higher import volumes and suppressed demand.
Hoping for prices to rebound, other pig producers opted to keep their animals on farm for a longer period. As a result, they are now presenting animals weighing more than 200 kg for slaughter, according to one trader. In normal times, the average would be nearer to 125 kg. These supersized animals are also contributing to the price slump, which some expect to last well into 2022, and possibly even longer.
ASF hits first Malaysian pig farm
At the end of April, ASF virus was detected at a commercial farm in Malaysia for the first time.
Deputy chief minister for the state played down this latest development, reported Borneo Post. He stressed that ASF poses no threat to human health. Describing the affected premises as a "small-scale commercial farm," he added that the outbreak was due to weak security. Wild pigs in the area had previously tested positive for the virus.
According to the latest official report from the country's veterinary authority to the OIE, 54 of the 450 pigs at the farm in the Sandakan district died. The remaining animals have been culled, and their carcasses destroyed.
Sandakan is in the state of Sabah, where all Malaysia's ASF outbreaks have occurred since early February. The latest cases bring the nation's total outbreaks to 30. Directly impacted have been 1,015 domestic pigs, and 52 wild pigs.
Repercussions of Philippines' ASF 'state of calamity'
In May 10, President Rodrigo Duterte declared a "state of calamity" in the Philippines because of the ASF situation. This covered the whole country, and was to last for a full year. Among the actions taken was to raise the minimum access volume for pork imports in order to increase supplies of this staple food.
Last week, Duterte signed a new Executive Order (EO 134), which supersedes the previous EO 128. The latest version raises pork imports within the minimum access volume (MAV) to 10% for the first three months, and 15% for the following nine months. The levels were also raised for imports outside MAV, which will increase to 20% and 25% for the two periods, respectively.
The "calamity declaration" allowed local governments to tap into their additional funds in order to intensify disease monitoring and surveillance, reports the Philippine News Agency (PNA). According to Agriculture Secretary William Dar, this will allow these authorities to put additional resources into quarantine and border control, strengthen biosecurity, and depopulate hogs found to be infected in ASF. Furthermore, they can use the additional funds for equipment and supplies for disease prevention and diagnostic services, he said.
In the Northern Mindanao region, the agriculture department head has called on local governments to use some of the "calamity fund" to indemnify pig owners affected by ASF.
Financial aid has been granted recently to around 60 pig farmers in one province in the Caraga region on the island of Mindanao, according to the same source. In November 2020, 157 of their pigs had been culled as part of the ASF control program. As well as financial aid, each farmer was given 10 chickens to start an alternative enterprise. Also recently receiving compensation for culled hogs have been affected owners in Pampanga province in the Central Luzon region.
Philippines: Local government initiatives on ASF
A recent three-million-head reduction in the pig population of the Philippines has been largely attributed to ASF since the first outbreak in July 2019, reports PNA. In Negros Occidental — a province in the ASF-region of Western Visayas — the local government is urging pig producers to raise their output. Already, production is higher than consumption, and the authorities see potential for the surplus pork to supply other ASF-hit areas of the country.
Officials in the province are warning farmers about the existence of fake transportation documents. These are being used by unscrupulous traders to overcome the ban on the movements of pigs and pork between ASF-infected and disease-free areas. In ASF-free Central Visayas, focus of the authorities has been on increasing disease monitoring and surveillance at pig farms and slaughterhouses so the region continues to belong to the "green zone."
In the Cordillera Administrative Region in northern Luzon, targeted repopulation of swine farms is being introduced in the province of Benguet, reports PNA. Meanwhile in Abra and Apayao in the same region, main focus of the authorities is controlling ASF in the wild boar population. These provinces were thought to be free of ASF until evidence of infections among the wild populations emerged in March.
Further ASF cases in Indonesia
According to the latest update from the United Nations' Food and Agriculture Organization (FAO), local media have reported further ASF cases in Indonesia. More than 1,000 pigs have died in seven districts of Manokwari regency, which is in West Papua province. This is twice as many mortalities as were reported at the end of April.
In its latest update to February 18, OIE recorded 1,008 outbreaks of ASF in Indonesia, affecting 10 regions of the country. Direct losses of pigs from mortality and culling at that time was more than 197,000.
Russia declares ASF resolved in its Far Eastern region
Last week, authorities in Russia declared to the OIE that the ASF situation in the Far Eastern federal district had been "resolved."
The declaration came after reports of 215 confirmed ASF outbreaks in this region since July 2019. Based on official reports to the OIE since that time, directly affected by the outbreaks have been 6,563 domestic pigs — 2,365 mortalities and 4,197 culls — and 312 wild boar. Most recent cases reported were confirmed in Primorskiy krai in March. They included a backyard herd of 73 pigs, and one wild boar from a forest park.
In a review of the ASF situation in Asia up to February 18, OIE had registered 211 ASF outbreaks in the Far Eastern federal district, directly involving 7,787 animals.
An immediate notification sent by the Russian authorities to the OIE this month indicates that the district is not yet free of ASF. The virus was detected in a small backyard pig herd in Primorskiy at the end of April.
View our continuing coverage of the global African swine fever situation.