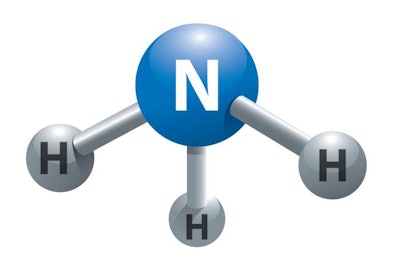 A group of researchers recently published the first global map of the distribution of atmospheric ammonia levels (NH3).
Researchers from the Centre National de la Recherche Scientifique (CNRS) in Paris and the Universite Libre de Bruxelles (ULB) in Brussels studied measurements taken by satellites between 2008 and 2016. A scientific report from Nature said the researchers used a high-resolution map of atmospheric ammonia obtained from almost a decade of daily IASI satellite observations.
"We report 248 hotspots with diameters smaller than 50 kilometers, which we associated with either a single point source or a cluster of agricultural," the report said.
The study also showed that ammonia emissions from previously identified sources are worse than previously found.
Ammonia gas emissions are a concern because they have been implicated in atmospheric haze and noxious odors. High concentrations of ammonia can cause irritation of the eyes, nose and throat in humans and animals, the U.S. Food and Drug Administration (FDA) said in a news release.
"The state-of-the-art EDGAR (Emissions Database for Global Atmospheric Research) emission inventory mostly agrees with satellite-derived emission fluxes within a factor of three for larger regions," the Nature report said. However, Down to Earth reported that two-thirds of the hot spots identified by researchers had not been identified before.
Industrial businesses are also largely responsible for emissions.
"By observing changes in the data over time, the team was also able to trace developments of the associated human activities, like the start or closing of industrial complexes or the expansion of infrastructures for intensive animal farming," Down to Earth reported.
The study's discoveries suggest that better supervision of the impact of ammonia pollution entails a inclusive review of ammonia emissions.
New regulations on emissions
Livestock producers across Europe and Germany are coming under increasing pressure to reduce emissions and, while poultry may produce fewer emissions than other livestock species, poultry producers will nevertheless have to modify their production methods to comply with the changes on the horizon.
A new European Union (EU) directive implementing legislation in Germany will see the country commit to cut total emissions by one-fifth by 2030. Poultry producers, like other agricultural sectors, will have to work with ammonia levels that are 20 percent lower than what is permitted.
Theories for reducing emissions
For years, talk of ammonia emissions like previously mentioned have led scientists to ask questions about how to reduce the levels.
In November, FDA approved a drug for beef cattle that lowers the ammonia gas released as a byproduct of the animals' waste. This is the first time the FDA has approved a drug that reduces gas emissions from an animal or its waste.
The product is Experior, developed by Elanco Animal Health, which is a medicated feed additive. It works by partially reducing ammonia gas emissions from manure in enclosed settings.
Some studies have shown that by increasing feed conversion rates, emissions are also decreased. Lilian Schaer wrote on behalf of Livestock Research Innovation Corporation (LRIC) that "turkeys are genetically selected for high feed efficiency, which means they consume less feed and make better use of available nutrients while at the same time producing more meat, ultimately resulting in lower emissions."
Other methods for reducing emissions and managing them in livestock housing units have been presented.