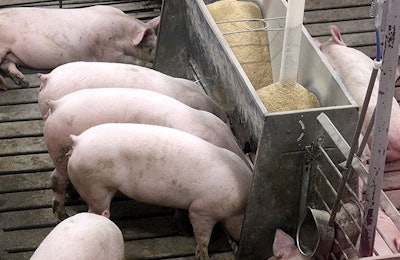 A food recycling program in the U.K. that turns human food waste in to animal feed is under scrutiny after a report from The Guardian found that plastic fragments from food wrappers is finding its way into animal feed.
Under the recycling program, more than 650,000 tons of unused food are saved from landfills and used in animal feed. But the machinery that removes the wrapping from these products is unable to remove it all, and a limit of 0.15 percent of plastic is allowed by the Food Standards Agency. The allowable level in the EU is zero, but many countries operate with the 0.15 percent limit.
The Guardian report quoted British farmer Andrew Rock, who said he noticed plastic shreds in the animal feed that he purchased from a feed mill accredited by the Universal Feed Assurance Scheme (UFAS).
"In the back of my head I thought maybe it was people dropping gloves into the feed mill. I took a kilo scoop out of the bag and I did this over several weeks. I laid it out in the light and I found plastic in nearly every scoop," Rock said in the report.
UFAS is a voluntary program run by the Agricultural Industries Confederation, which said that it would investigate Rock's concerns.
According to Heather Leslie, an ecotoxicologist at the University of Amserdam, said no level of plastics should be allowed in animal feed.
"Tiny microplastics can be released from larger pieces during feed processing and the smaller fractions are, we think, even more risky for the animal's health. We've known for decades that after ingestion fine plastic particles cross the mammalian gut barrier and enter the bloodstream. It's already been tested in pigs, dogs, rats and also in chickens. From the bloodstream they can be transported to tissues and organs. We know this from studies with rats," she said in the report.
Paul Featherstone, chairman of the UK Former Foodstuffs Processors Association and group director of animal feed producer SugaRich, said in the Guardian report that every effort was made in the process to keep plastic traces to a minimum, and said the issue of preventing waste food from going to landfill was a huge environmental concern.
"In line with the vast majority of EU countries we have a tolerance of 0.15% by weight of plastic residue. We don't set that as a target, we want to be way, way beneath that. We don't want to be putting anything injurious to an animal into feed," he said.