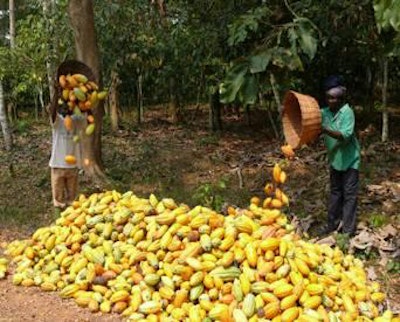 One of the major dichotomies of the Ghanaian economy is the fact that, whilst many viable alternative feed ingredients are available, animal production falls far below the expected requirements. The main excuse: the high cost or unavailability of feed. The role of an effective feed supply has become a prominent issue, and some efforts are being made to produce commercial feed from alternative sources, especially for poultry, pigs and fish.
The country's annual consumption of meat averages 225,000 metric tons, of which only 30 percent is produced locally. Eighty percent of the meat imports are comprised of processed poultry. A major government program aimed at maximizing local production, the Ghana Broiler Revitalization Project (GHABROP), is well underway with the goal of drastically reducing foreign imports in the next few years.
Grain costs, demand pose challenges
In Ghana, as in many African countries, corn is the major component of poultry, pig and fish (aquaculture) diets. Corn is also used as raw material in the brewery and pharmaceutical industries. In Ghana, it accounts for more than 50 percent of cereal production. Yet it is the major staple feed for humans, as it is all over sub-Saharan Africa.
Due to this heavy demand, the price and supply of corn have perennially been a problem for the animal production industry. Fish meal and soybean meal, the main protein sources used in animal feed, are also imported, and with the almost regular decline of the local currency, prices of these vital ingredients are always appreciating.
In Ghana, the cost of feed accounts for 70 percent of the cost of running a poultry enterprise. The situation is not very different in Nigeria and other African countries.
The problem of unreliable feed ingredients has been there for decades, yet interestingly, viable alternative feed sources, which have been scientifically proven, have not been deployed in commercial production until recently. The non-deployment of these sources was mainly due to perceptions about anti-nutritive factors, which seemed to preclude their deployment at higher levels. The publication of recent results on methods of dealing with the anti-nutritive factors has helped promote the their use.
Alternative ingredients
The following is an overview of three alternative ingredients being introduced to Ghanaian animal feed rations.
1. Cocoa pod husk (CPH): Cocoa pod husks are available in large quantities and can serve as a major animal feed ingredient. Ghana and most West African nations produce very significant quantities of cocoa. Apart from very small quantities of the potash, which are used in soap making, the pods are buried in pits or burnt after the beans are extracted. Current signals clearly indicate that by providing a viable substitute for corn in animal diets, cocoa pod husk will play a major role in the economies of producer nations.
Reduction in pressure on corn will stabilize food supply, perennially a major problem for African governments. It will also help lower the feed component of poultry and other animal production budgets, and make these enterprises more profitable.
Most researchers recommend the use of cocoa pod husk at between 10 and 15 percent substitution for corn in poultry diets. One major factor that was identified as a hindrance to its deployment at higher levels was the presence of theobromine. Researchers recommended several methods of mitigating the effects of this chemical, including hot water extraction, alkaline treatment and microbial treatment.
Others recommended the use of enzymes to improve the capacity of the birds to effectively utilize cocoa pod husk. The Kwame Nkrumah University of Science and Technology is involved in a project aimed at raising the protein and soluble contents of the husk whilst decreasing the fiber contents, using oyster and mushroom. Several researchers have also recommended the inclusion of cocoa pod husk at around 30 percent in pig diets.
Researchers in Nigeria have proven cocoa pod husk to be a viable substitute for corn at 100 percent in fish diets, a result which will encourage the expanding aquaculture industries in Ghana and Nigeria.
2. Palm Kernel Cake (PKC): A byproduct of palm kernel oil extraction, palm kernel cake is another agricultural resource produced in large quantities in Ghana and West Africa, but which has had very little commercial value until recently. Various researchers have recommended levels of inclusion between 10 and 40 percent, some experts believe that the low inclusion results were due to the grittiness of the palm kernel cake, resulting from the indigestible nutshells. They therefore recommend that palm kernel cake must be screened from nutshell particles before oil extraction.
3. Sunflower Cake: Locally produced sunflower cakes will soon be available for the poultry, pig and aquaculture industries before the end of 2015, thanks to a project being undertaken by a local feed producer. Under the project, out growers in the central region are being commissioned to grow the sunflower crop, with the main aim of producing a stable protein source for the national animal industry.