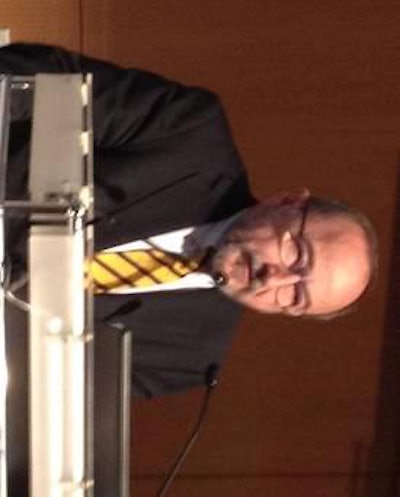 Feed additives offer livestock producers enormous potential, but the industry is faced with growing pressures, said Peter Radewahn, managing director of the German Feed Association, the Deutscher Verband Tiernahrung (DVT), and president of the European Feed Manufacturers' Association (FEFAC) animal nutrition committee, giving the opening session of the 2015 Feed Ingredient and Additives (FIAAP) International Conference, organized by Feed International and WATT Global Media.
He emphasized that feed must be safe, or the correct quality – both nutritionally and microbiologically – and it must be efficient and cost effective. But there are new expectations for feed. Commercially produced animal feed must now offer resource efficiency, aid in responsible livestock farming, and aid in producing health livestock and consequently healthy consumers. In Europe, these additional expectations have emerged over the past 10 years.
Yet these pressures, which can be broadly categorized under the drive for sustainability, are expected to increase all over the world.
Where feed additives are concerned, their contribution varies from product to product, he told delegates, but the potential they offer is enormous. Consumers, however, tend to reject additives, and there needs to be more consumer education to explain their benefits.
Within the EU, the additives list is going through the process of being re-authorized. This started six or seven years ago and there is still no end in sight. There were 2,800 additives authorized in the EU, and now there are only 1,500 that have been re-appraised. This has had the result of drastically reducing choice.
For the industry, it is not only very costly to produce the dossiers for re-evaluation, he explained, but the process has also acted as a brake on innovation, and there are only limited financial resources. But other issues have also arisen as part of the re-registration process.
A lot of generic products, such as vitamins, are no so specifically detailed in the dossier, they cease to be generic and have become holder specific. The compound feed manufacturer, consequently, is not able to change supplier, and this is a problem for the whole industry.
The whole approval procedure is so expensive that some manufacturers are unwilling to make the investment for re-registration. In principle, the EU scientific review is a good thing, but efficacy requirements are a problem and there are now greater restrictions on animal testing. The establishment of maximum limits is also a problem, and the cost of inclusion should perhaps be seen as the best regulator for inclusion rates.
For more information about the 2016 edition of the FIAAP Conference, visit www.FIAAP-Conferences.com.