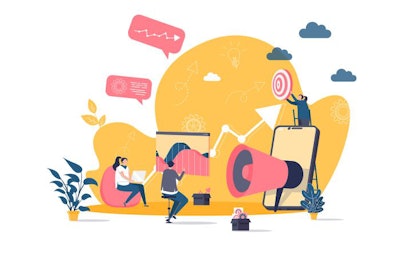 Social media is the newest way to reach your prospective customers
About 10 years ago, I wrote an article for Feed Management (the predecessor to Feed Strategy) about marketing nutrition. I just re-read it and I believe that most if not all my recommendations there stood the test of time. But I would like to add one more item – here as a blog, because this is the era of succinct communication.
Marketing is all about conferring a higher product awareness among possibly interested customers, before the sales process begins. Here's a brief list of possible outlets and methods to achieve this target, with No. 7 being the newest addition.
Marketing research. Such would be research conducted comparing one product against its competition. Or, demonstrating the strong points of a product under the conditions it should be used (for example, a health additive under disease stress).
Research publications. Apart from company brochures, the above research (if of suitable caliber) may be published in scientific journals as full papers or at least abstracts. This gives an enhanced image for the product, the company and its professionals.
Magazine articles. Not everybody follows all research publications, so a timely, short article in a relevant magazine can be valuable, especially if it has some educational value in addition to describing the product or service in question. Advertorials should be strictly avoided.
Conferences. Although expensive, they can be very effective if the right prospective customers are brought together with the right company employees and the right message is presented. Use sparingly because time is a premium for all.
Direct mail marketing. This is something of the past that has been replaced by emails and websites. Even better today are one-to-one marketing sessions, independently or along with the sales process. Today, virtual meetings have become obligatory and soon they will be a welcome option for many.
Advertisements. We often discount the thought, but it remains the most effective way to create an image in the market. All major consumer products have reached their status by advertisement. Think about it next time you buy a car or a refreshment.
Social media. Newer generations often ignore any or all of the above as they receive their daily feed of news through social media. Even older hands (like me) find this new trend highly effective. So, having an active, educational, valuable presence on social media is the newest addition (or headache) for your marketing department.