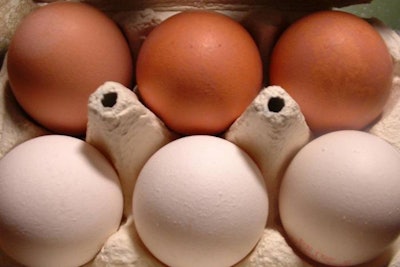 Rarely considered as important as calcium or vitamin D, manganese is an integral part of the eggshell
When we discuss eggshell quality, the focus is on calcium, and rightly so. After all, calcium carbonate is what eggshells are all about. But we should not stop there. Vitamin D is also important for calcium absorption at the gut, but that is not the story today. There is another mineral that is present in each eggshell. Manganese is an integral part of the eggshell and all its components, yet it is rarely being considered as important as calcium or vitamin D.
The main problem is that manganese from natural ingredients is poorly bioavailable as most is bound by phytate. Plus, the high level of calcium required in a layer diet reduces even further the bioavailability of manganese. This is true not only for manganese in natural ingredients, but also that provided by the trace mineral premix, or even that released by the action of phytase. So, manganese is almost always in tight supply.
Eggs from manganese-deficient hens have reduced eggshell thickness and exhibit translucent spots. You may want to check the next batch of eggs you buy from the supermarket. You will be surprised as I was when I learned about these spots. Furthermore, manganese supplementation enhances the synthesis of glycosaminoglycan in the eggshell membrane, which further improves eggshell quality. Manganese bioavailability is perhaps the second most important cause of poor eggshell quality.
The NRC 1994 requirements for hens call for less than 25 mg/kg manganese in a layer diet. This is based on data generated as early as the late 60s, which is clearly outdated, considering the extension of the lay period up to 100 weeks today. Recent studies indicate that adding up to 200 mg/kg manganese linearly increases eggshell thickness and strength. The distance between 25 and 200 mg/kg manganese is definitely too large, which reinforces the notion that we need more research conducted with modern genetics at different production phases, especially in aged hens.