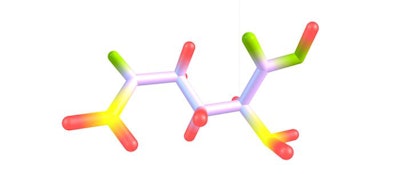 This amino acid is especially important for weaned pigs
Glutamine is one of the 20 amino acids required for protein synthesis. Under normal conditions, it can be synthesized de novo using precursor compounds. This means we do not have to worry about this amino acid like we do with lysine, for example, in normal corn-soy diets.
Nevertheless, glutamine of dietary origin remains the most important energy source for the epithelial cells of the gastrointestinal tract. This fact alone makes glutamine an amino acid of the highest importance in the case of weaned pigs that experience low feed intake and thus low intake of dietary glutamine, and rapidly deteriorating gut health due to the feed and stress factors associated with the process of weaning. Therefore, it is logical to assume that dietary needs of glutamine around the time of weaning would be high and not easily covered by most common ingredients. Under this understanding, glutamine can be considered a conditionally essential amino acid.
Indeed, research has clearly demonstrated that up to 1.5% supplementary glutamine enhances gastrointestinal health and improves growth performance post-weaning. The major sources of dietary glutamine are animal plasma (about 10% of its protein) and whey protein concentrate that often replaces animal plasma (about 8% of its protein). The richest source of glutamine is wheat gluten (about 33% of its protein). All three protein sources contain about the same level of crude protein (70-80%). Finally, of late, L-glutamine has become commercially available as a feed additive.
One important aspect of glutamine supplementation is the degree of acid hydrolysis at the stomach and upper part of duodenum. Only intact glutamine that reaches the small intestine is of use for purposes of gut health.