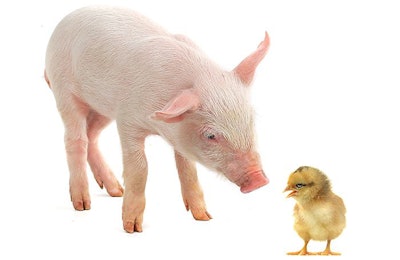 Take this opportunity to ask experts questions about low-protein pig and broiler diets
Feeding low-protein diets to young pigs and broilers raised without antibiotics is one of the three nutritional pillars required for success. In my opinion, a low-protein diet is the starting point. After all, Escherichia coli, the pathogen that causes the most cases of diarrhea in piglets, is known to thrive on protein (and iron). So, a low-protein diet is a must.
However, reducing crude protein, by removing soybean meal or any other wholesome protein source, and replacing it with free amino acids is not as easy as it may appear. How low can we go before certain essential amino acids become limiting? What about non-essential amino acids that need a certain level of dietary protein to source the required nitrogen? And, which free amino acids are available? There are many questions, indeed.
If you share my thoughts about low-protein diets, I invite you to attend the upcoming webinar on low-protein diets, which I will moderate. The October 29 webinar will be hosted by WATT Global Media and sponsored by CJ Bio, a major amino acids supplier. The presenters will be Dr. Jaap van Milgen, Ph.D., senior scientist, INRAE, French National Research Institute for Agriculture, Food, and Environment; and Dr. Jeffrey A. Hansen, Ph.D., director of technical sales and service for swine, NutriQuest.
Having done my own Ph.D. on valine at the late Dr. D.H. Baker's laboratory at the University of Illinois, I can guarantee you, this is going to be a very lively conference.
Register to attend the live broadcast or view the recording on demand.