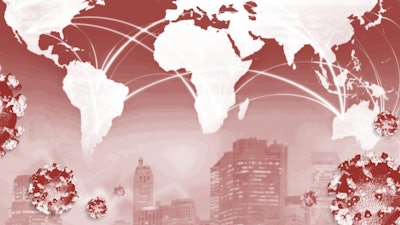 Virtual edition of the largest US feed and poultry industry event prompts industry additive and equipment suppliers to reflect on what the pandemic has taught them about their customers, business
For more than a decade, I have attended the International Production & Processing Expo (IPPE) in Atlanta. This year is no exception, albeit under very different circumstances, as I am writing this blog several days into the virtual 2021 IPPE Marketplace event.
Now, still early in the new year and very much still coping with a global pandemic, it's a good time to reflect on the lessons learned – personally and professionally – and assess how far we've come and how this experience will shape who we are in the future.
During her Marketplace TECHTalk, "What the animal food industry has learned from COVID-19," American Feed Industry Association (AFIA) President and CEO Constance Cullman examined five themes that emerged in the U.S. feed industry during the COVID crisis:
Employee safety was paramount to all members of the feed industry.
Clear and timely communication and transparency became critical to building employee trust and to address challenges.
Investing in essential workers on and off the clock, with bonuses and waiving paid-time-off policies so employees could properly quarantine.
Efforts to ease the work/life balance of employees, many who were juggling home schooling and other difficulties.
Navigating tough times through collaboration across the board, i.e. within the organization, with local governments, partners, etc.
Based on Cullman's presentation, my key takeaway was that many feed industry companies fully integrated their employees' safety, well-being and special circumstances into their business strategy. The real question is how many of these short- or medium-term changes will stick even after COVID is no longer a threat.
Aside from the pandemic's human resources implications, what other lessons will feed industry stakeholders carry with them into the future?
Lessons learned
Playing off Cullman's presentation and taking it a step further, I asked some of the IPPE 2021 Marketplace exhibitors about the most valuable lessons they and/or their company has learned from the COVID-19 pandemic. Here are their responses:
"We've learned that personal contact remains the key to our mutual success, but such contact doesn't always have to be face to face." – Troy Lohrmann, president & CEO, Quality Technologies International
"The key lesson at BIOMIN since the onset of COVID is that we are and have always been in a people business. Our customers and employees are passionate about their contribution to feeding the global population and more sustainable animal protein production. We have always been committed to taking care of our people – both mentally and physically — and that truth has become more relevant now than ever before." – Franz Waxenecker, managing director, BIOMIN
"When an unexpected disruption arises, both our processes and our culture can pivot very quickly. When COVID struck, the business had to go on. Reflecting on the very rapid transition, three key insights arise:
First, the safety of people always comes first. Without a strong safety culture, everything else is secondary. We knew that before COVID, but the pandemic made it crystal clear that safety comes first.
Second, speed, flexibility and creativity are necessary when it comes to helping a team quickly transition internal projects into a virtual platform so that progress continues. The business must go on, right? A positive coming out of the situation is we realize we actually can be flexible and can embrace change quite quickly if we put our minds to it. Adaptability isn't just about processes, but also relates to cultural innovation in terms of how we revise remote working. It's opened our eyes to how we think about travel and the necessity of such travel, and the role of virtual collaboration.
Finally, the COVID-19 situation shows the importance of embracing digital. It worked even better than we expected. Not only are digital platforms allowing us to collaborate with customers and research partners, but we are using these channels to engage with prospects as well." – Saskia Korink, CEO, Trouw Nutrition
"Adapt fast and invest in remote working tools and processes for effective business continuity. While on travel restrictions, we always looked for alternative ways to support our valued customers. For instance, in April 2020 we demonstrated our new box dosing system to a customer completely through an online meeting. It proved to be a great success and said system has been up and running at the customer's plant since September." – Nathalie Melis, marketing, KSE Processing Technology
"Interpersonal relationships are at the core of connecting with producers and allowing you to better assist them. Connecting via electronic platforms is necessary sometimes, however, small private meetings off premises have been more important than ever. Additionally, our research and analysis of field issues does and should continue to be a priority. It is something to which we must dedicate time. The restrictions on travel and meetings have allowed us to focus heavily on solving problems through research & development." – Paul Price, North American poultry manager, Phileo by Lesaffre
"Where we have noticed a sharp decline is in the amount of prospecting sales calls that we can do. These are vital in the sales function as they serve both to inform about the product (and its value proposition), but also to build rapport & trust with the customer. This is virtually impossible to achieve without a site visit. The value of face-to face visits, and their ability to form strong intrapersonal customer relationships, has been my biggest learning during the pandemic." – Dave Taylor, area business manager – feed, Americas, Borregaard
"Your organization needs to be nimble enough to react quickly to changing circumstances. There is no such thing anymore as "business as usual." Companies need to be able to think, plan and execute at a speed that keeps up with rapidly changing market circumstances and the surrounding business environment." – Jim Holliday M.Sc, vice president – animal health and area country manager – North America, Chr. Hansen Inc.
During these strange times, the interpersonal lessons of empathy and resilience will surely carry on to forever shape the business culture of the feed industry and the relationships between employees and employers – as well as companies and their customers.