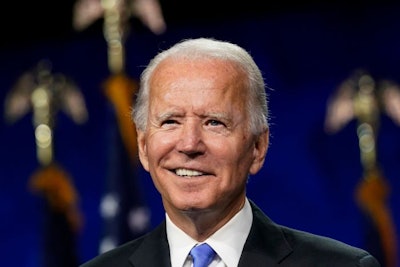 AFIA president and CEO Constance Cullman discusses American feed production under the Biden administration
The United States will be ringing in a New Year and a new administration in 2021 with the inauguration of its 46th president, Joe Biden. I recently spoke with the American Feed Industry Association (AFIA) president and CEO of Constance Cullman to get her take on what she thinks U.S. feed producers can expect under the Biden administration.
In Cullman's opinion, there are three major policy areas that will take centerstage during his first year in office: a strategy for curbing COVID-19, the Build Back Better plan for economic recovery, and a renewed U.S. commitment to combating climate change.
Initially, the Biden administration will be consumed by the pandemic and getting the U.S. economy back on track. In addition to prioritizing vaccinations and access to protective equipment, Cullman is very interested in how these programs will roll out at the state and national levels.
AFIA "is very interested in making sure that behind frontline health care providers and those most at risk for COVID-19, that the essential workers producing animal and human food for the U.S. economy are prioritized," she said.
Biden's Build Back Better plan will focus on infrastructure — which is critical for the U.S. animal food industry — but may also have a "very different look and approach," as Biden has emphasized his "desire to stimulate the economy with energy, renewable energy and related initiatives," she said.
Here, AFIA will be pushing to improve broadband in rural communities, as the pandemic highlighted the disparity and disadvantages that rural America faces without access to high-speed internet.
Cullman notes that "air" is the common thread among Biden's recent cabinet appointees — particularly Michael Regan's appointment to head the Environmental Protection Agency (EPA) — a theme she feels may guide climate change regulations.
"We are very hopeful that the feed industry can sit down the table with the Biden administration, and talk about how we believe we have solutions to some of the climate change challenges that the world faces — and we're looking to work with the administration in that vein," Cullman said.
For additional insights from Cullman, watch our discussion in the latest edition of Feed Strategy Chat, our new virtual interview feature.