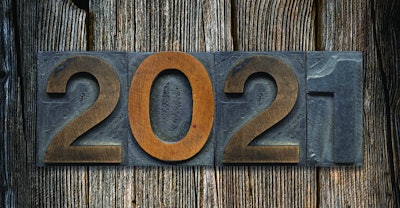 A look at the role COVID-era consumer behavior will have on feed and poultry production this year
Even though 2020 is behind us, some of the lifestyle and behavioral changes introduced, emphasized or accelerated by the COVID-19 pandemic will linger into 2021 and, in some cases, may become permanent fixtures in animal agriculture's analysis of consumer protein consumption trends.
While writing my January/February special report, "2021 Poultry Feed Outlook: Prepare for market volatility," I spoke with several feed and poultry industry stakeholders to gather their insights from the feed perspective and, also, walked away with their analysis of the issues that will influence poultry meat and egg demand over the next 12 months.
Here are their thoughts on the consumer behaviors that impact poultry and poultry feed producers this year:
According to Nan-Dirk Mulder, senior protein analyst with Rabobank, due to a historic downturn in global economic growth (-4.5%), economic conditions will increasingly impact consumer spending — especially when it comes to their food budgets.
"Consumers will be more price driven and will trade down their daily purchases," which will equate to moving their shopping to discount retailers and cheaper fast-food options, he said. In addition, more consumers will choose cheaper proteins and reduce their "premium concept" purchases to more standard offerings, e.g. organic versus conventionally grown meats.
"Due to the crushing economic impacts of the pandemic, which amplify affordability in the minds of consumers, we anticipate an accelerated shift in consumer preference for protein from poultry, both meat and eggs," said Dr. Steve Lerner, head of marketing and product management – North America, Chr Hansen Animal Health & Nutrition. "This could mean be a boon for the [poultry] industry."
Popularity of online grocery shopping
The pandemic hastened the movement of consumers away from brick-and-mortar stores, forcing them to become more comfortable with online shopping and, in many cases, preferring the convenience.
"Online shopping will continue to increase market share in the meat sector — in addition to almost everything else we buy," said Dr. Scott Tilton, food animal nutritionist and technical sales adviser, The Andersons Inc.
In Europe and United States, for example, the use of online food distribution grew by more than 40% in 2020, Mulder reported.
"The growth of this segment will lead to big potential innovations in the value chain and will be an accelerator of new technology in big data, block chain, smart farming and artificial intelligence," he said. "It will offer producers plenty of opportunities to optimize their business, to improve marketing of their products and connect consumers with producers."
Emphasis on sustainability, animal welfare
Sustainability in food production has been a critical industry issue for quite some time; however, growing consumer concerns regarding environmental and animal welfare issues will increasingly exert pressure on the poultry production industry.
"People are becoming much more conscious of what they eat and where it comes from," said Aart Mateboer, business unit director – animal nutrition, DuPont Animal Nutrition. "Many are choosing to reduce meat consumption and to support local producers — particularly those who follow more sustainable production methods and consider animal welfare."
Continued demand for antibiotic reductions
Government regulations and consumer concerns surrounding antimicrobial resistance from the overuse of antibiotics will continue to drive animal producers to further facilitate efforts to reduce and, eventually, eliminate antibiotics from production.
"The good news is that solid progress has already been made in this area," Mateboer noted. "In North America, for example, around 50% of poultry meat sold is already antibiotic-free. Plus, many companies are also supporting this trend by investing in the development of new additive solutions so feed formulators and nutritionists will have an increasing number of tools to help poultry producers continue to work towards this goal."
Tilton stressed that, moving forward, the identification of non-antibiotic alternatives to enhance growth performance and to reduce the need for antibiotic intervention will be key.
"Identifying plant-based options that reduce the risk of microbial contamination — as well as offering potential nutraceutical properties like spent yeast or probiotic activity — will be critical to ensuring the success of these programs," he said.
Mulder reports a contrary trend to the conclusion drawn in the first point.
"Some consumer segments — if income allows— will look to alternatives to compensate for their lost restaurant spending," he said. "Indulgence will be a key driver for them to buy special and premium products, which they otherwise would have bought in restaurants."
Here, the suppliers of high-priced specialty and organic proteins may benefit.
"Current trends include more high-end meat [purchases], such as beef, pork and lamb loin products, but is increasingly becoming a reality for poultry as well," Tilton said.