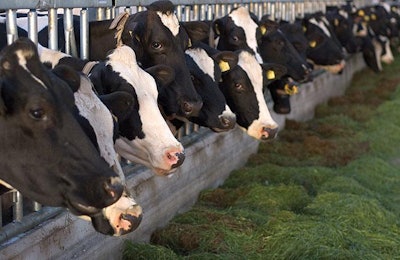 DSM Animal Health & Nutrition launches 'We make it possible' strategic sustainability initiative
"If not us, who? If not now, when?" These are the questions to answer as DSM Animal Health & Nutrition (AHN) kicks off its "We make it possible" strategic initiative, which hopes "to lead a robust and achievable transformation worldwide in sustainable animal protein production." The ultimate goal, of course, is to aid in providing affordable and nutritious food to the world's growing population.
While sustainability initiatives have become commonplace among multinational firms, during a call shortly before the launch of the program, I asked DSM ANH's vice president of sustainability and business solutions, David Nickell, to describe why it is the right time to communicate the "We make it possible" mission to its customers.
"DSM has a very long, rich heritage in the sustainability arena, and that's the basis of us operating as a purpose-led company, which is really the core of who we are," he said. The initiative "comes after many years of investment in innovation and science aimed at providing real answers to some of the challenges in the industry. It is not marking a new beginning, but it's a significant acceleration of our journey towards a more sustainable future."
Aligned with five of the United Nation's 17 Sustainable Development Goals (SDG), DSM's "We make it possible" strategic initiative is driven by six sustainability platforms meant to tackle some of the major challenges facing animal agriculture.
Nickell outlined how the animal nutrition business can address these six critical issues:
DSM is delivering its sustainability message to its customers and partners in hopes that they adopt and implement this mindset in the field.
"Sustainability is very nuanced down to the [individual] farm, that's where the footprint or animal production is," he explained. "It means working closely with the customers understanding the customer's journey, listening to them, and bringing forward relevant solutions for them. It doesn't come down to one person or team or department — I'd say it's down to all members of DSM, our customers and our partners in the value chain to help make this make this possible."
To learn more about the program, visit www.dsm.com/wemakeitpossible.