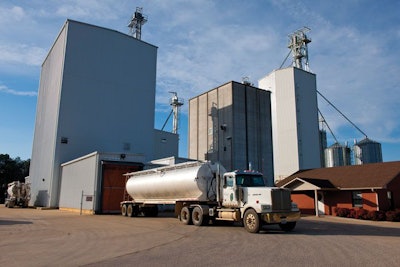 NGFA outlines tips for keeping drivers safe, examines critical workforce exemptions
The novel coronavirus (COVID-19) pandemic has highlighted the importance of professions that often go overlooked despite the important role they play in keeping our economy — and our lives — in motion. In all facets of the food supply chain, the unsung heroes are the truckers, who not only ensure food security but, in this unique instance, are also putting their health on the line.
For example, in animal feed production, the feed delivery drivers are essential to ensuring poultry and livestock are fed. And the feed can't be manufactured without the consistency and reliability of raw material and ingredient deliveries, not to mention the human element — the relationships involved between the drivers and their customers.
Luckily, just like the food and agricultural industries, truck drivers have been deemed part of the critical infrastructure workforce by the U.S. Department of Homeland Security (DHS), as well as other governing bodies dealing with the pandemic around the world.
"The grain and feed industry has always known that truck drivers are extremely important, but it feels like based on what we're seeing in the national news that the rest of the country is figuring that out, too," said Max Fisher, director of economics and government relations, National Grain and Feed Association (NGFA).
To keep your feed delivery drivers safe, Fisher offered some commonsense tips:
Provide all your drivers with hand sanitizer and a disinfectant wipe kit to keep in their cab
Suggest they pack lunches and other "grab-and-go" food options to minimize their risk of contracting COVID-19 from the general public
Ensure they are current on and adhering to the most recent COVID-19 guidances, such as how to prevent its spread, handwashing recommendations, social distancing, etc.
If possible, move to electronic documentation to limit in-person interactions.
Trucking without restrictions
Given their essential status, U.S. grain and feed delivery drivers have been granted special allowances to maintain the transport of agricultural products.
For example, despite the original Centers for Disease Control and Prevention (CDC) guidance, truck drivers who have crossed borders into COVID-19 hot spots are not required to self-quarantine for 14 days.
"They're critical [to the supply chain] and they need to keep working, assuming they're not sick, of course," he said.
While non-essential cross-border traffic between the U.S., Canada and Mexico has been banned, trade and commerce is still allowed to continue, making truck drivers exempt from the rule. The same applies to trucks making their way through states with "shelter-in-place" orders.
Concerns have been raised about what drivers should do if they are stopped while in transit and how they can prove their critical workforce status. To assist drivers and feed companies to move freely during shelter-in-place orders, NGFA has developed a standardized access credentials letter template validating the driver's essential worker status.
The NGFA has also compiled an extensive COVID-19 resource and response list to assist the grain and feed industries.
If you haven't already, take a minute today to thank your drivers for their service.
How is COVID-19 affecting your feed business? Share your experience.