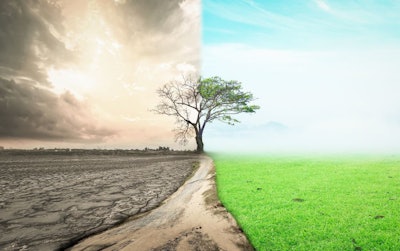 2020 Poultry Nutrition & Feed Survey examines the trends shaping the future of feed
"Widespread uncertainty" would probably be the best phrase to describe the first quarter of 2020. The global coronavirus pandemic (COVID-19), the lingering impacts of African swine fever, movements with international trade agreements, the upheaval of food supply chains and the list goes on. Wow, the world — and animal agriculture — has dealt with a lot in the past few months.
Given all the turmoil, media coverage of one of the hot topics of late 2019, climate change, seems to have fallen to the wayside, but remains a concern for many working in poultry and feed production.
To identify the current feelings surrounding this somewhat controversial topic, Feed Strategy posed the following question in its 2020 Poultry Nutrition & Feed Survey: How do you feel climate change will impact your business in the future? (Note: Respondents could choose more than one response.)
According to 2020 survey results, 44% of respondents believe climate change will increasingly negatively impact animal health and welfare in the coming years and causes additional on-farm production challenges (40.5%).
From drought to floods, severe weather trends bring their own challenges. Respondents (35.5%) fear that they will face increased instances of mycotoxin contamination and the related difficulties maintaining feed quality (32.8%).
Respondents are also concerned about the impact inclement weather could have on grain supplies. Forty-three percent of respondents cited raw ingredient availability and high commodity costs (40.8%) as challenges they feel climate change will pose. To this end, 32.5% of respondents are in the process of exploring new grain sources and alternative ingredients should traditional options be limited by cost or availability.
Meanwhile, 11.5% of respondents hold steadfast to the belief that "climate change is a hoax."
For more insights into what poultry feed producer and nutritionists have to say, read the full report, "2020 Poultry Nutrition & Feed Survey: Poultry feed balances cost with market demands."
About the survey
The Poultry Nutrition & Feed Survey is an annual survey of the appropriate audiences of Feed Strategy, WATT PoultryUSA, Industria Avícola, Egg Industry and Poultry International magazines. The survey, conducted in English and Spanish, aims to define the feeding and external trends shaping these businesses during the past 12 months.
In 2020, 385 individuals producing and using poultry feed worldwide participated in survey. The respondent breakout consisted of 24% working in live production, 18% nutritionists, 14% consultants, 12% veterinarians, 10% in sales and marketing, and 22% in feed mill production or other operations/administrative positions.