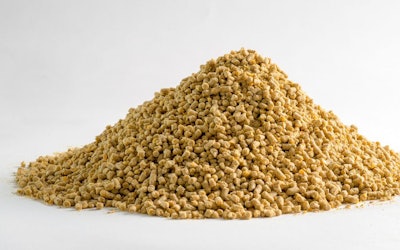 Global animal feed production decreased by 1.07% to 1.126 billion metric tons in 2019 – the first decline in nearly a decade, Alltech reported in its annual Global Feed Survey. The drop is attributed to the impact of African swine fever (ASF) and the related decrease in swine feed production, which fell by 11% globally, but by more than 26% in Southeast Asia.
Despite the challenges of ASF, broiler demand and production proved the bright spot worldwide. Broiler feed production accounted for 28% of total global feed production in 2019, a segment that increased by 3%.
While pork currently outranks chicken as the world's most popular meat, Alltech vice president Matthew Smith feels ASF will "propel us to that cross over point where the world will consume more poultry."
"The Food and Agriculture Organization told us that would happen sometime in the next 10 years, but I think we are going to hit that much more quickly," Smith said during the feed survey's panel discussion.
The results of WATT Global Media's 2020 Poultry Nutrition & Feed Survey (Feed Strategy, March 2020) align with this claim. Thirty-six percent of global survey respondents report that their company is planning to ramp up its poultry and poultry feed production this year due to ASF's impact on protein supplies and added demand; and 23% feel the impact of ASF has contributed positively to their company's profitability over the last 12 months and beyond.
Chicken meat trends
Beyond the general demand for alternative animal proteins, given high pork prices and a tightened supply, another consumer trend is influencing the chicken boom: processed foods.
"Asian consumers, for example, want more processed foods and it's easier to utilize chicken meat than pork," explains Dr. Mark Lyons, Alltech president and CEO. "At the same time, some of the stigma attached to poultry versus pork in those markets is also changing with the younger generation that is much more focused on sustainability and health."
In the United States, Lyons points to the $2 billion potential of Chinese chicken exports.
"The U.S. poultry industry will benefit from the Chinese market opening up so that's really going to drive what people are producing," he said. "Maybe some different genetics for markets interested in cuts beyond high level of breastfeed yield? Perhaps some will jump on this opportunity and start to produce a different type of bird for that market."
Lyons doesn't feel that plant-based proteins will be a threat to broiler or broiler feed production.
"It's much more of a perception issue, a very emotive issue for the industry," he said. "I think it's something to watch, but we believe that these alternatives are part of the global food landscape in the future. The agriculture industry is an over trillion-dollar industry — and we're still talking about the need to double that in a not too distant future. Alternatives are part of the landscape, but they're not going to eliminate or replace animal livestock production."
If you want to know more about what poultry feed industry stakeholders think about the plant-based meats, the impact of antibiotic-free production and opportunities for growing profitability, make sure to read Feed Strategy's March cover story, "2020 Poultry Nutrition & Feed Survey: Poultry feed balances cost with market demands." The results of WATT Global Media's annual survey hit the streets March 11. Here, nearly 400 readers from around the world share their insights on the state of poultry feed formulations and how they are impacted by macro trends.