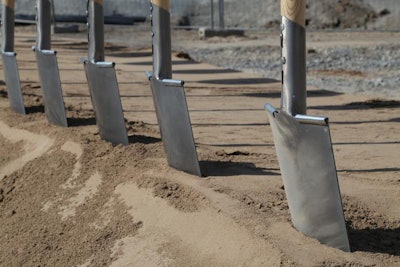 New Fashion Pork broke ground on a new $10 million feed mill in Round Lake, Minnesota. It is being built to replace an older mill the company owns and has outgrown.
The company has teamed up with Weitz Construction as its general contractor to build the mill. Company officials said their hope was to break ground the week of June 25, with a completion date in 12 to 14 months, should weather allow.
"This will be a mash mill only, no pelleting at this time," said Kevin Moore, feed division manager with New Fashion Pork.
The new mill will provide feed for New Fashion Pork hogs only. There will be no changes in nutritional plans for their hogs upon completion of the mill.
"We concentrate primarily on corn particle size with good nutritional formulas to grow a premium pig," Moore said.
The Round Lake mill will be fired up with a single shift of four employees inside the mill and a minimum of five truck drivers hauling feed within a 85-mile radius of the mill.
"Our goal is to manufacture between 135,000 and 150,000 tons the first year on that single shift and still have the ability to add additional shifts as needed," Moore said.
All incoming ingredients will be hauled by local contractors, and corn will be supplied by local farmers.
"By automating the mill, our goal is to have a very safe work environment for the employees as well as a very clean mill, with the multiple dust control systems being installed," Moore said.
Moore also said purchasing the property in Round Lake to build the mill and being able to work with the city and county on all permitting and tax benefits could not have gone more smoothly.
"Everybody we were involved with through the entire process was very professional and courteous. We already feel right at home building in the city of Round Lake," Moore said.