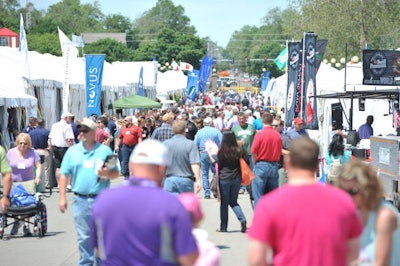 The 2018 World Pork Expo will mark its 30th anniversary by presenting the world's largest pork-specific trade show with more exhibit space and featuring more U.S. and international companies than ever before. Presented by the National Pork Producers Council (NPPC), the world's largest pork-specific trade show takes place Wednesday, June 6, through Friday, June 8, at the Iowa State Fairgrounds in Des Moines.
"The Expo's 30th anniversary is a great time to look back at all we've accomplished as pork producers," said Jim Heimerl, NPPC president and producer from Johnstown, Ohio. "But more important, it provides us with the perfect place to look forward to the many opportunities and advancements that lie ahead."
Each year, more than 20,000 producers and pork professionals visit the three-day exhibition to attend educational seminars, learn more about the latest industry innovations at the trade show and network with peers.
Record-setting size
For the first time, the Jacobson Exhibition Center (JEC) will join the Varied Industries (VI) building and open its doors to Expo exhibitors and attendees.
"This will add 300 prime exhibit spaces in a building that will allow companies to display larger exhibits with more elaborate designs," says Doug Fricke, director of trade show marketing for NPPC. "We will have well over 500 companies at the show this year. If it relates to pork production, you'll find it at the trade show."
With its combination of indoor and outdoor exhibit space, Fricke expects this year's trade show to easily exceed 360,000 square feet — up more than 40,000 square feet from 2017.
So much to learn, do and see
There's never a shortage of things to do and see at Expo. Always high on the list are the nearly two dozen free educational seminars. The PORK Academy and Business Seminars run throughout the day on Wednesday and Thursday, allowing Expo attendees to catch a discussion on topics such as marketing, herd health, nutrition, employee management and much more. Pork producers and their employees can meet leading experts and hear the latest developments in pork production and business strategies.
Other activities include:
Swine shows — Attend the World Pork Expo Junior National and the open shows and sale, hosted by the National Junior Swine Association (NJSA) and Team Purebred — which kick off Expo week with activities beginning on Monday, June 4 and running through Saturday, June 9.
Pre-Expo tours — Expand your experience by attending one of two tours prior to Expo. A two-day Midwest Agricultural Tour takes place on Monday, June 4, and Tuesday, June 5, and travels across Iowa into Illinois and Indiana. A one-day tour on Tuesday will provide a first-hand look at a variety of Iowa agribusinesses.
NPPC hospitality tent — Visit with board members and staff for updates on legislation, regulation and public policy issues that affect their businesses.
MusicFest — Interact with pork industry peers while enjoying live music, grilled pork and refreshments on Thursday evening.
Big Grill — Enjoy free lunch during the show from 11 a.m. to 1 p.m.