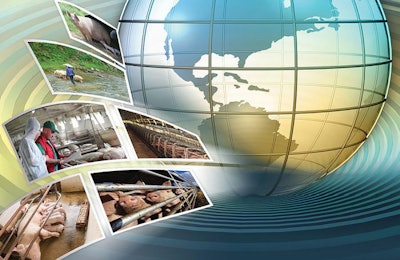 The U.S. has benefited from growing demand for meat, including pork, around the world.
Patrick Fleming, director of market intelligence at the National Pork Board, says world markets are starting to develop a taste for U.S. pork, and Steve Meyer, economist at Kerns and Associates, says he's seeing varying rates of increasing consumption in different parts of the world.
"In the developed world, the United States is going to eat 50 to 54 pounds of pork every year," Meyer says. "The Europeans eat a little bit more pork, but it's very stable. Russia will probably eat more pork because they're building their industry – they have this goal to become self-sufficient. In South America, pork consumption is growing. … Brazil is increasing production slowly."
In 2017, the U.S. exported a record of more than 5.39 billion pounds of pork and variety meats worth more than $6.48 billion, according to the National Pork Board.
The Food and Agriculture Organization of the United Nations says trends in the meat sector have been driven by rapid growth in China and Brazil.
"China has had a very rapid domestic expansion," says Craig Morris, vice president of international marketing for the National Pork Board. "They have invested heavily in facilities that are much more efficient to produce pork on a much larger scale, more analogous to what we have here. That is clearly one of the factors in why Chinese demand for imported pork has waned, is their ability to be much more self-sustaining. Obviously, that's good for U.S. feed exporters and there's been a near-term demand for feed."
The growing middle class in developing countries has contributed to more demand for meat in general.
"The demand for meat products in increasing, in Asia particularly," says FAO economist Upali Galketi Aratchilage.
Meyer agrees: "Asia still is a place where incomes are growing and so production in Vietnam and China is growing for sure. Consumption is growing because when consumers have a little more money to spend, they tend to buy meat, especially in places that haven't had much meat."