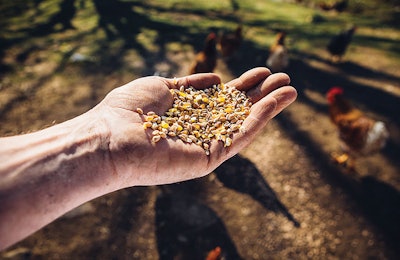 The annual Poultry Nutrition & Feed Survey was conducted in early 2018 and included the input of 399 respondents worldwide. More than half of participants were nutritionists, consultants and veterinarians. Seventeen percent work in live production management or as the owner of a poultry farm.
The results reveal the added costs producers are seeing due to changing consumer preferences and regulations in poultry feed production.
Here are six key takeaways from the survey:
More than 80 percent of survey respondents cite grain costs as their No. 1 challenge in 2018.
Regarding profitability, 46 percent of respondents were optimistic, reporting improving profitability in 2018 compared with 2017.
When asked which poultry production trend will have the greatest impact on their company's feed formulation program and, in turn, feed costs, 43 percent of respondents cited antibiotic restrictions.
When asked to examine the feed conversion ratios (FCR) of slow-growing broilers against modern strains, 25 percent of respondents cited lower FCR.
Of the respondents who raise and feed cage-free laying hens (27 percent), 21 percent feel their feed conversion is 1 to 3 percent higher than with cage-housed hens; 17 percent feel it's 4 to 7 percent higher; 16 percent feel their FCR stayed the same; 13 percent report it being lower.
Eighty percent of survey participants are involved in some level of antibiotic-free poultry production: 22 percent are 100 percent antibiotic free (ABF); 24 percent report between 50 and 99 percent of their production is ABF; and 24 percent falls between less than 50 percent but more than 10.
Read the entire report about the 2018 Poultry Nutrition & Feed Survey.