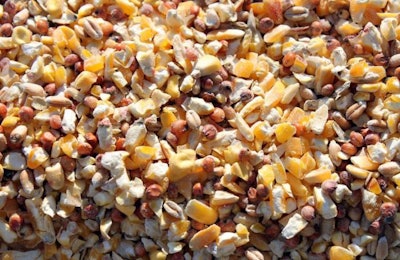 Costs for key feed ingredients corn and soybeans are currently about "as good as it gets," but those prices are likely to increase in the not-to-distant future, poultry industry economist Paul Aho said.
Aho, speaking at the Poultry Market Intelligence Forum at the 2018 International Production & Processing Expo (IPPE), said the U.S. and global economy are presently strong, and prices for commodities such as oil and copper are strong. And usually, he added, when other commodity prices go up, grain is usually not far behind.
"It's a good time to dust off those hedging programs and become a little more aggressive," said Aho.
Corn prices
Corn buyers are presently enjoying low prices. Aho said he believes we are at the bottom of the corn cycle.
"This is as low as it gets. I think this is as good as it gets. From now on forward, I think we are going to see rising corn prices," he said.
What is happening in China often has a meaningful impact on markets, and corn usage in the country will surely go up as leaders there have declared that they will convert to E-10 ethanol use by 2020.
As a result, China's current supply will go down, and the need for imports from other countries will likely be increased, affecting the global supply.
There is also the possibility that corn supplies and prices will be affected by a "supply hiccup," such as a drought. Aho noted that every year there is about a 1-in-17 chance of a drought, similar odds to rolling dice and ending up with a 7.
Soybean prices
The situation with soybeans is very similar to that with corn, Aho said.
Last year, there were a lot of soybeans in ending stocks, but Aho foresees that the supply will go down.
Factoring China into the equation again, he said the country imported 10 million metric tons of soybeans in 2000, but that amount is now closer to 100 million.
"That's a big deal. That's about the same as the total amount of soybeans produced in Brazil," he said, adding it is wise to keep "one eye on China and one eye on Brazil."