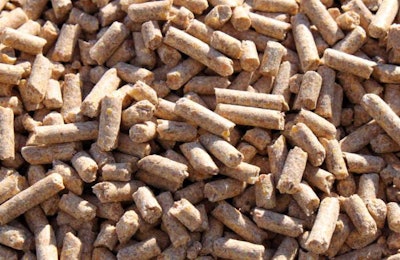 Latest developments in the updating of the poultry industry in the West African state of Ghana include the inauguration of a new feed mill, and the launch of a range of poultry feeds.
Located at Apeda in the Eastern Region, and with an annual capacity of 500,000 metric tons, the feed mill has been constructed for Park Agrotech Ghana Ltd., reports Business Ghana. It is part of an US$8 billion investment including a poultry breeder farm, hatchery and corn production by parent company, Skylark Group of India.
Launched recently in Accra, the firm's new feed brand — "Lay More" — includes five diets to cover the nutritional needs of poultry of all ages.
At the launch, Park Agrotech managing director, Latit Mishra, highlighted the automated and hygienic conditions of feed manufacture, and range of quality assurance procedures.
These are just the latest in a number of developments in Ghana aimed at reducing imports of poultry meat by increasing the quantity and quality of domestic production.
In January, the Ghanaian Ministry of Food and Agriculture (MoFA) intensified efforts to attract investors to construct poultry processing plants, with the aim to reduce the nation's reliance on poultry imports.
High feed costs
According to regional director of MoFA, Cyril T. Quist, high feed costs are among the major factors affecting the profitability of Ghana's poultry sector, reported Ghana News Agency recently.
Food and Agriculture Minister Dr. Owusu Afriyie Akoto announced last month that the government would increase domestic production of corn and soybeans this year, reported Ghana Web, in order to make more competitively priced feed ingredients available to poultry feed producers.
The ministry is also reported to be collaborating with four private investors to establish new poultry feed mills in Ghana.
According to the website of Park Agrotech Ghana's parent company, Skylark Group was founded as a poultry breeder in northern India in 1985, and has since diversified into grandparent and parent stock operations, hatcheries, feed milling, broiler contract farming, equipment, poultry processing and retail marketing. Its first pelleted feeds produced using a fully automatic and computerized processes were launched in 2003 by Skylark Feeds Pvt. Ltd.
As well as its own broiler farms in the state of Rajasthan, Skylark places more than 2 million day-old chicks with numerous contract growers each month. In 2013, the firm acquired its first agricultural operations in West Africa.