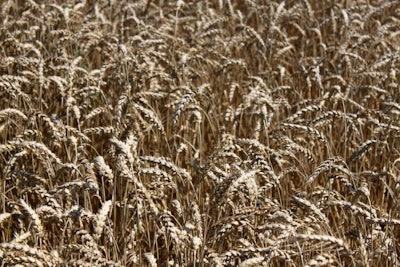 A new survey of the chemical composition of feed ingredients from countries across Europe reveals significant variation that represents a challenge for feed formulation.
Since 2012, Evonik has been analyzing an increasing number of samples of a range of common European feed crop varieties each season, and compiling the data on protein, amino acid and energy composition to guide nutritionists toward optimum feed formulations for poultry and pigs.
The latest report, "Europe Raw Material Crop Report 2017," includes data on 5,725 samples from 16 countries including, for the first time, from Sweden and Finland.
Wheat is a key grain component in diets for poultry and pigs in Europe. Including data for almost 1,800 samples, the 2017 European wheat crop contained marginally higher levels of crude protein than the previous season (11.58 versus 11.52 percent). Mean levels of essential amino acids, methionine + cysteine (0.44 percent) and threonine (0.33 percent) were also slightly up on those from 2016, while lysine was unchanged at 0.32 percent.
Wheat samples taken in 2017 averaged 2.29 percent crude fiber — up from 2.08 percent for the previous year — which contributed to a small but significant reduction in the energy content compared with the 2016 crop. Nitrogen-corrected apparent metabolizable energy (AMEn) for the current season's wheat is 12.98MJ/kg (2016: 13.01MJ), and net energy for growing pigs is 10.82MJ/kg (2016: 10.87MJ).
Current season wheat mean starch and total phosphorus contents were also above the average levels last year at 60.12 percent and 2,575mg/kg, respectively.
Variation in composition
Evonik's Crop Report for 2017 European wheat also demonstrates the variation in composition between different countries in the same season.
Taking crude protein as an example, the European average was 11.58 percent, but values ranged from Denmark's 9.55 percent to 13.73 percent for Turkish wheat.
Data from Evonik's survey also reveal that seasonal differences in composition may vary between one country and another, depending on weather and other growing conditions. For example, the mean protein content for European wheat in 2017 was 11.6 percent, just 0.1 percentage point higher than the previous season. In Spain, the difference is 1.7 percentage points — 12.5 percent for the current harvest compared with 10.8 percent in 2016.
Nutritionists need to be aware of these variations in the composition of all the feed ingredients available to them.
"To compose a well-balanced feed, it is crucial to know the exact protein content of every single raw material," said Dr. Emmanuel Auer, head of the animal nutrition business line of Evonik. "As these protein contents can vary wildly from year to year, especially on a localized, regional basis, our annual reports help provide the industry with this valuable insight and data."