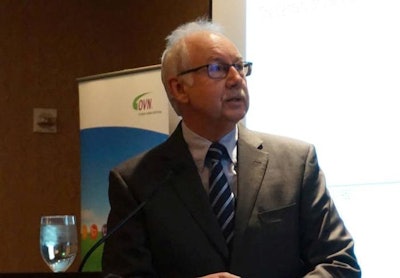 Adding vitamins to poultry feed should lead to higher feed conversion, better productivity and improved animal welfare, according to new nutritional guidelines released by DSM.
At a Tuesday morning event hosted by DSM Nutritional Products Inc. at the International Production & Processing Expo in Atlanta, Georgia, representatives of the Dutch life sciences company discussed the company's 2016 supplementation guidelines for animal nutrition and what the updated standards mean for poultry producers.
Dr. Gilbert Weber, senior science fellow for animal nutrition and health with DSM, led the presentation. He said it's necessary to regularly update the vitamin guidelines because of the constant changes occurring in the poultry industry.
He explained that a large portion of the research on nutritional needs of layers and broilers, as well as other animals, are based on science that is years, if not decades, old. As the genetics of the animals change and improve, Weber said, the animal's vitamin needs change as well.
For farmers, the inclusion of the proper vitamins are not just a production issue. Along with decreased production, Weber said, the deficiency of necessary vitamins can also lead to deformities in animals' bodies, which decrease the animal's productivity and life span, as well as its appeal to consumers. As animal welfare becomes a more important issue with animal protein buyers, he said, the inclusion of necessary vitamin supplements in animal feed should be more important for farmers looking to maximize their animals' production.
Weber said DSM's Optimum Vitamin Nutrition guidelines are designed to help farmers of layers, broiler and other poultry, as well as swine, ruminants, horses, fish and shrimp and other animals. The OVN, he said, is designed to ensure animals receive proper nutrition to maximize their genetic potential.
Specifically for the poultry industry, Weber said, proper vitamin levels are essential for birds being raised under stressful conditions. Animals dealing with dense stocking, air quality, lighting, noise, humidity, litter and temperature issues can suffer from higher stress and more diseases and disorders, which lead to a higher metabolic rate. The higher the stress, he said, the higher the vitamin requirements will be.
DSM's research indicates proper vitamin nutrition can lead to better immune response and health in flocks. Weber said that vitamins as a feed supplement will be a more important part of improving hens' and turkeys' immune systems as regulatory pressures push farmers away from antibiotics.
Dr. Ed Moran, a professor emeritus at the Auburn University's Poultry Science Department, who spoke after Weber, said the inclusion of the right vitamins – particularly vitamins A, B6 and E – can help improve gut and intestine health, and therefore feed conversion, in the absence of antibiotics.
Proper vitamin nutrition can also decrease stress levels in broilers headed for the slaughterhouse and improve the quality of the animal's meat. The presence of the right vitamins contributes to better nutritional quality in meat, longer shelf life, and better transfer of essential vitamins to humans.
See all the latest IPPE news.
Watt Global Media will host a webinar, sponsored by DSM, on Optimum Vitamin Nutrition in Poultry Production on February 11.