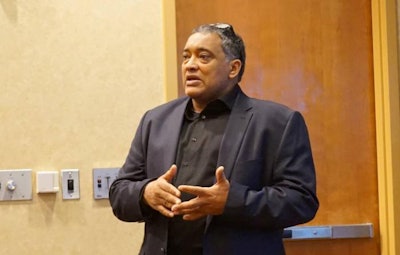 New research shows a probiotic product from Chr. Hansen Inc. allows broiler producers to reduce energy, protein and amino acid content in feed without reducing broiler performance.
At a Monday afternoon event hosted by the Danish company, a trio of veterinary scientists discussed their research on the efficacy of Chr. Hansen's Galli-Pro Max product as a feed additive for broilers. The experts explained how the direct-fed microbial containing a unique strain of Bacillus subtillis contributes to improved feed conversion in real-world situations.
Three speakers – Dr. Dorthe Sandvang, a senior research scientist with Chr. Hansen, Dr. Horácio Rostagno, a professor at the department of animal sciences at Brazil's Federal University of Viçosa, and Michael Sims, president of the Virginia Diversified Research Corp. – spoke about their research on GalliPro Max. They collectively concluded the supplement improves feed conversion and allows for similar performance with less feed.
The speakers said the product boosts enzyme production while enhancing intestinal function because the strain of Bacillus subtilis increases the availability and uptake of energy and nutrients from feed. As a result, broilers can maintain the same performance on less expensive diets.
A release from Chr. Hansen said the product aids the uptake of nutrients by promoting healthy microbial diversity in the intestine. It allows birds' natural digestive enzymes to work more effectively and makes it more difficult for harmful bacteria to colonize the gut.
See all the latest IPPE news.