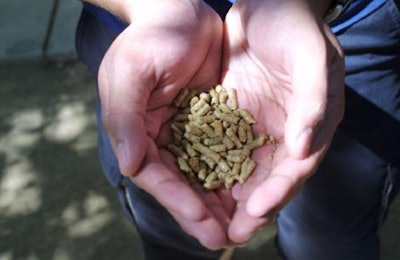 From WATTAgNet:
The past week brought us news about feed efficiency and sustainability, Adisseo on the Shanghai Stock Exchange, feed additives, EU organic feed sourcing rules, Evonik's new methionine production site, avian influenza's impact on the US feed industry, FSMA preventive control rules, and a blog on the 20th European Symposium on Poultry Nutrition proceedings.
---
Highlights of the FDA's final rule on the Food Safety Modernization Act (FSMA) requirements for current good manufacturing practices (CGMPs), hazard analysis and risk-based preventive controls for animal food
Despite a greatly depleted flock, the effects of avian influenza have been localized and overall feed volumes will remain steady because of the increased demand for broiler meat.
Evonik has started Mepron production at its Mobile, Alabama, site in the U.S. Thus, the plant goes into service after 15 months, according to plan. Mepron is a formulation of the amino acid methionine specially developed for dairy cows by Evonik's animal nutrition business line.
From WATTAgNet: European Parliament's Agriculture Committee has approved some amendments to EU organic rules, creating some aids and challenges for organic farmers in the U.K. The biggest concern in the rules is a proposal requiring organic animal feed to be produced on-farm or sourced within 150 km (93 miles).
Today, most additives are marketed with several claims. Even enzymes that have absolutely nothing to do directly with gastrointestinal health are often marketed with indirect (albeit, true) health claims. Many nutritionists and producers use many additives to compensate for the low-health status of certain farms. This is counterproductive, as the real problem is not resolved, but rather more money is spent on the wrong cause.
Every day, suppliers from companies selling or marketing additives visit nutritionists at local feed companies, veterinarians responsible for nutrition in pig farms, and pig producers. Their aim is to convince that their product is beneficial for our animals and our profit line, and superior to competing products of similar nature.
Adisseo, a global leader in nutritional solutions and additives for animal feed and one of the main subsidiaries of China National Bluestar (Bluestar), is now quoted on the Shanghai Stock Exchange. This comes after the restructuring of the capital of Bluestar New Chemical Material Co. Ltd.
For those of us who missed the 20th European Symposium on Poultry Nutrition, the proceedings will keep us busy for a long time.
More efficient and environmentally friendly ways of feeding pigs, poultry and rabbits are the focus of a new European research project that will not only make livestock production more sustainable, but will help to reduce Europe's import of feedstuffs.