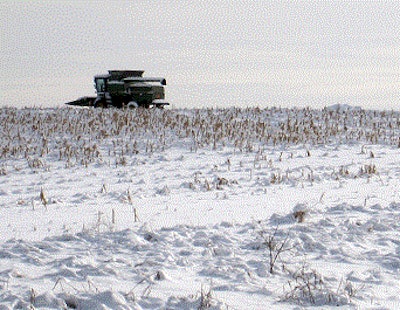 A pair of February snow storms brought some drought relief to animal feed grain producing states, but weather experts say it will not be enough to replenish the water supply to its needed levels.
Between the storm that hit late during the week of February 17 and another early in the following week, about 54 percent of the continental United States is under a coat of snow, USDA meteorologist Brad Rippey said. States like Nebraska, Kansas and Oklahoma got the most snow, with reports of 20 inches falling in south-central Kansas near Wichita.
"In the wake of the two storms, there's a lot of half-foot and one-foot snow accumulations across some of the drought areas across the central and southern Plains and into the middle Mississippi Valley," said Rippey.
The nation's two biggest feed crops – corn and soybeans – have not been planted yet, but Rippey said the recent precipitation will help the wheat crop that is in the ground, as well as the pastures and rangeland that have been suffering.
"And it does buy some time, especially since it looks like some dry weather's returning to those areas for the next few weeks," he said.
While the snowfall may ease the drought, its impact will be reduced because much of it is sitting on frozen ground. As the snow melts, a lot of the water is expected to run off into rivers and streams instead of soaking into the ground, Brian Fuchs, of the National Drought Mitigation Center in Lincoln, Neb., told the Associated Press.
"It's a welcome relief, and maybe it's going to start trending us in a positive way," Fuchs said. "But it's not the drought-buster that some would hope."
In addition to the snow in the Midwest, heavy rains hit the Southeast, with some areas getting as much as four inches, according to the USDA's Weekly Weather and Crop Bulletin. The rains led to some low-land flooding.