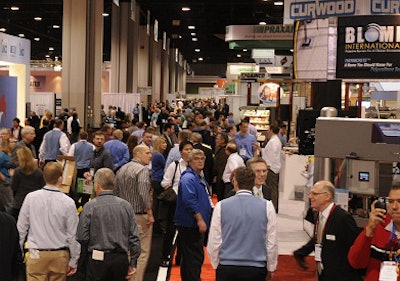 The 2013 International Production & Processing Expo had record attendance with 26,393 poultry, meat and feed industry leaders from all over the world. The expo is the world's largest annual poultry, meat and feed industry event of its kind and is one of the 50 largest trade shows in the U.S.
The event is sponsored by the U.S. Poultry & Egg Association, the American Feed Industry Association and the American Meat Institute. There were 5,448 international visitors from 111 countries represented at the expo. The largest group from a single country outside the U.S. was Canada with 916 visitors. The largest region represented was Latin America/Caribbean with 2,394 visitors. "The number of attendees on the exhibit floor exceeded our expectations, and we are very pleased," said 2013 USPOULTRY chairman James Adams. "We had an exceptional turn-out this year."
Feedback from attendees has been very positive in terms of the education programs and time spent on the tradeshow floor, according to 2013–2014 AFIA chairman Alan Gunderson. "Many are looking forward to 2014," he said.
The main attraction was the exhibit floor, which covered more than 430,000 net square feet. With 1,189 exhibitors presenting the latest advances in equipment, supplies and services, attendees were able to view and experience all phases of the poultry, feed and meat industry, from live production and processing to further processing and packaging.
Helping drive the attendance, a week-long schedule of education programs complemented the exhibit floor by keeping industry management current on the latest issues. The education line-up included 15 sessions: the long-standing International Poultry Scientific Forum; Pet Food Conference; Animal Agriculture Sustainability Summit; International Feed Education Program; Recalls and Public Health Investigations; Improving Food Safety, Sanitation and Maintenance; Animal Care and Handling: Focus on Poultry Processing; Meat and Poultry Processing: A Global Perspective; Consumer Trends; Plant Operations and Management; Antibiotics Conference – Current Issues for the Poultry & Egg Industry; The Future of the U.S. Egg Industry; Meat & Poultry Research Conference; Media Training for the Meat & Poultry Industry; Poultry Handling and Transportation Quality "Train the Trainer" Workshop; Poultry Market Intelligence Forum and the International Rendering Symposium.
The 2014 International Production & Processing Expo will be held January 28–30, 2014, at the Georgia World Congress Center in Atlanta, Ga. Show updates, attendee and exhibitor information will be available at www.ippexpo.org.