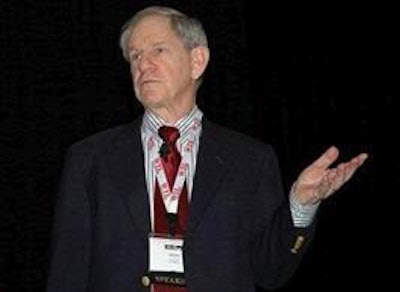 Thomas Elam has made his voice heard as the Environmental Protection Agency's proposed Renewable Fuel Standard is in the midst of a 45-day public comment period, and he said he thinks members of Congress are starting to listen.
Elam, introduced to members of the National Turkey Federation as the "arch-nemesis of the ethanol industry," spoke to federation members on February 14 during their annual convention.
The proposed 2013 overall volumes and standards are: biomass-based diesel (1.28 billion gallons; 1.12 percent); advanced biofuels (2.75 billion gallons; 1.60 percent); cellulosic biofuels (14 million gallons; 0.008 percent); and total renewable fuels (16.55 billion gallons; 9.63 percent.) They were introduced on January 31. Elam, president of FarmEcon LLC, along with spokespeople from ActionAid, Taxpayers for Common Sense, American Fuel and Petrochemical Manufacturers, Environmental Working Group and National Marine Manufacturers Association, took part in Congressional briefings on February 5. Members from each group warned Washington officials of how the Renewable Fuel Standard and the ethanol industry are harmful.
Whether those briefings will lead to a different standard and free up more corn for poultry and livestock feed is still up in the air, Elam said, but the seed has at least been planted. "We did this briefing a year ago, and the attendance this time showed two or three times as many people there," said Elam. "There's more of them listening, and they were listening very intently. On the Senate side, we got no questions, but on the House side, we got a ton of questions, and they were all very, very good questions. Does that translate to a majority in both houses voting for a bill and perhaps being able to override a presidential veto? I don't know."
During his talk to the federation, Elam said the Renewable Fuels Association will tell the story that the availability of corn has little impact on the cost of poultry and livestock production, or the cost of food. But he stresses quite the opposite. "Since the first RFS in 2006, food costs have started to climb, and have they ever climbed," he said, estimating that the total cost impact on food from 2005 to 2012 has been $71.3 billion. Despite the 15 percent decrease in feed supply and significant increase of feed costs since 2007, the turkey industry has sustained. The overall commercial meat production in 2012 was around 91 billion pounds, which is actually up about one billion from 2007. Projections for 2013 are very similar to the 2012 results.
But Elam said had less grain been used for ethanol production, more would have been available for feeding turkeys and that 2012 production number would have been much higher. "It's been amazing what you've managed to do. If costs have been lower and corn had been more plentiful, that production would be up close to 100 billion pounds this year," said Elam. "That is the potential that we are missing."
Elam said ethanol mandates are also holding other animal agriculture industries back. "We could have been producing significantly more meat. Cargill wouldn't have needed to close their Texas plant. We could have built that Sanderson Farms complex in North Carolina. We could have built more complexes. There wouldn't have been eight poultry companies go bankrupt since 2008. We could have avoided a lot of stress. We just don't have enough feed stocks to feed our people and our ethanol plants," Elam said.