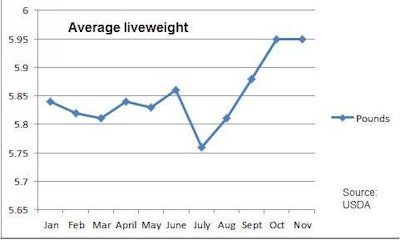 Like many agricultural bankers, Steve Hatz has heard pessimistic comments about the drought and its effects on feed grain prices and the overall economic state of the poultry industry. But the senior vice president of Bank of the West, whose animal protein portfolio includes broiler, egg, hog and cattle producers across the Midwest, sees plenty of signs of optimism.
"It's not as bad as it sounds, I don't think," said Hatz. "I would tell you their numbers tend to show that. They've been able to hang in there profit-wise, or minimize their losses. On the broiler side, they don't really have a crush opportunity … They do buy their corn and their soybean meal when it looks like it's an opportunity."
Broiler production
After experiencing a downward trend over the past year, the U.S. Department of Agriculture has projected an increase in broiler production in 2013. But Hatz has witnessed many industry advisors say more birds raised can also spell bad news. He doesn't necessarily agree.
"At the broiler meetings we've been to, they're pretty fast to point out because the market's so negative if you're building inventory again, you're your own worst enemy. They are trying to cut production, but cut production by not growing as fast," he said.
"All the current data out there right now shows eggs sets up one percent from last year. Even the broilers placed are up one percent. What we forget is if you look back a year ago, they were down seven percent from the previous year. It's not like nothing's happened. But the broiler industry with egg sets up 1 percent isn't as tragic as some try to place it."
One industry change Hatz is seeing is a shift to heavier birds, where there may be fewer head, but pound-for-pound it balances out. He also says he is seeing producers putting less focus on the breast meat, and more on other parts.
Retail prices
Hatz is also impressed with the current retail poultry prices, saying, "the broilers have had more success in increasing their prices at the retail level than I think even they anticipated.
"I think the retailers trying to increase prices, that may have a psychological point of view with all the drought talk. It's a heck of a lot more prevalent in the news, that the drought was extensive and pretty devastating last year. And whether the consumer is more sympathetic or whatever else, it seems they've been able to deliver a lot of that product to the marketplace, at a higher price. Where we were in 2008, we had a lot of product, and we couldn't raise the price for anything, and the losses were horrifying on the poultry side."
Drought and management
All sectors of animal agriculture have been affected from the drought as both rangelands and fields of feed grains have had far less than sufficient moisture. The dry spell's adverse affects may very well continue, but Hatz said the industry needs to look past 2012's drought and look forward.
"Of course, we're very concerned about the drought condition, but last year is over with. We just have to worry about the new one, and new one doesn't look to hot right now. That's where our concern lies, and I think that's where everyone's lies," he said. "We'll have to wait and see if we can get the spring rains that we're going to need for this year's crops. Two years in a row is more crippling than anything else, and that's an area that nobody wants to go."
Looking beyond the drought, Hatz said he thinks things will get better in upcoming years for not only poultry producers, but for all sectors of animal agriculture.
"If you look out five years, there is some underlying optimism for the proteins. We have to get through last year's pricing corn at $7.70, but next year, I don't know where we're going to price corn. Underlying this, just from the numbers, there is some opportunity down the road," said Hatz. "These guys are much more tuned to their risk management philosophy than they have been for a number of years. You have much more fundamentally sound managers or owners who are out there who honestly do a pretty good job."