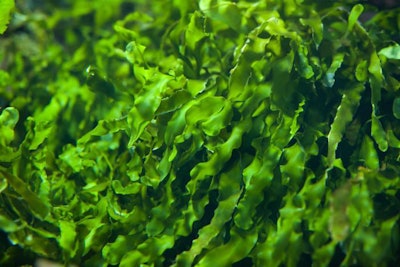 UC Davis is studying whether adding small amounts of seaweed to cattle feed can help reduce their emissions of methane.
In a study last spring, researchers found methane emissions were reduced by more than 30 percent in a dozen Holstein cows that ate the seaweed.
"I was extremely surprised when I saw the results," Ermias Kebreab, the UC Davis animal scientist who led the study, told the StarTribune. "I wasn't expecting it to be that dramatic with a small amount of seaweed."
Only 0.5 to 1 percent of the cow's diet must be seaweed to see the 30 percent reduction, Kebreab said.
Cattle get mostly minerals from seaweed but can benefit from protein and fiber too, Kebreab said. Although researchers attempted to feed cattle the seaweed naturally, molasses had to be added for them to consume it.
Those involved in the research are still determining if the seaweed will have any impact on the milk produced by dairy cattle.
Beef cattle study
Kebreab and his team plan on conducting a six-month study of seaweed in beef cattle diets starting in October. This study will be performed with 18 angus steers.
"We will look at meat quality, taste and feed conversion efficiency," Kebreab said.
Seaweed growers would have to drastically ramp up production to make this an economical option for farmers.
"A big investment is needed to create a value chain to sustainably source seaweed for cattle," said Kebreab.
If the UC Davis study is successful, it could help cattle producers from California comply with a state law that requires them to cut emissions by 40 percent from 2013 levels by 2030.
Other research has been done to reduce emissions with feed additives with mixed results.