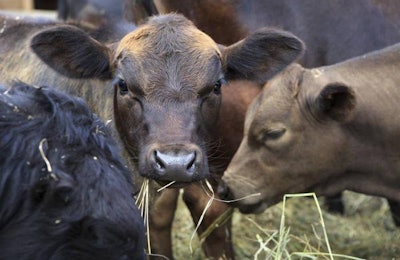 The Food and Agriculture Organization of the United Nations (FAO) says 2 billion of the estimated 50 billion tons of greenhouse gases (GHG) emitted annually come from cattle. One company has created a feed additive that it says can reduce GHG emissions from cattle by 300 million tons per year.
Switzerland-based Agolin S.A. has developed Agolin Ruminant, a plant-based feed additive that reduces methane emissions from cattle and also improves feed efficiency. The product has been certified by the Carbon Trust Assurance Ltd., a sustainability verification service based in the United Kingdom, and has received an award from The World Alliance for Efficient Solutions, established by the Solar Impulse Foundation.
Methane is produced by ruminants as a product of feed fermentation. Most of the methane emitted from ruminants is produced in the rumen and exhaled through the respiratory system. One cow can produce up to 500 liters of methane gas per day, according to Michael Roe, commercial director for Agolin, who said dietary energy is also lost through this process.
"By reducing methane synthesis in the rumen, more energy becomes available for production and other metabolic functions of the animal," Roe told WATTAgNet. "Agolin Ruminant acts on the rumen microbiota in such a way as to reduce the methane producing components and divert the energy saved towards VFA (volatile fatty acid) production. This, in turn, results in an improvement in feed utilization as the animal is extracting more energy from a given amount of feed."
Roe said several trials have shown that Agolin Ruminant reduces methane emissions and improves production and milk yields.
"These trials have been carried out using a number of different sampling methods, across different feeding systems and diets in order to determine how Agolin Ruminant works in different situations," Roe said.
Formulation and inclusion
According to Roe, Agolin Ruminant is made from "a carefully formulated blend of plant extracts" including coriander, clove and wild carrot. He said it is included in dairy diets at the rate of 1 gram per head per day and in beef diets at up to 1 gram per head per day based on weight.
"Cost is only a few cents per day and return is excellent," he said. "Even achieving 1 liter extra milk per day can give a return of 12:1 or more, depending on milk price and, of course, the benefit to the environment must also be considered."
Agolin Ruminant is available in several markets worldwide, including the EU, Asia, North America and Australia. Agolin also produces plant-based products for pigs and poultry.