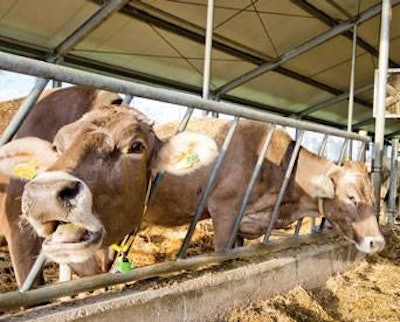 Marine algae, seaweeds, have emerged as the next promising feed ingredient, and a number of studies already evaluate different forms of it in all species. A recent study assessed the value of certain seaweeds as a source of minerals in organic dairy cattle.
Cows received their normal diet consisting mainly of local forage (at pasture or as hay and silage in the winter) and 5 kg of concentrate/day per animal, which represents 23.5 percent of feed intake. A seaweed mineral product was provided at 100 grams per animal daily.
Sixteen Holstein Friesian lactating cows were randomly selected and assigned to the control (n=8) and algae-supplemented groups (n=8). Both groups had exactly the same feeding and management with the exception of the algae supplement, which was mixed with the concentrate feed and given to the animals at their morning milking for 10 weeks. The seaweed supplement significantly improved the animals' mineral status, particularly in iodine and selenium that were low on the test farm.
The researchers, however, pointed to the cautionary fact that the effect of the algae supplement on the molybdenum status in cattle needs further investigation because of its great relevance on copper metabolism in ruminants. Also, it was mentioned that the iodine supply deserves special attention, since this element is at a very high concentration in brown-algae species and it is excreted in the milk proportionally to its concentration in plasma concentrations.
Find the entire study in the Cambridge Journal: http://bit.ly/1pd9jv0