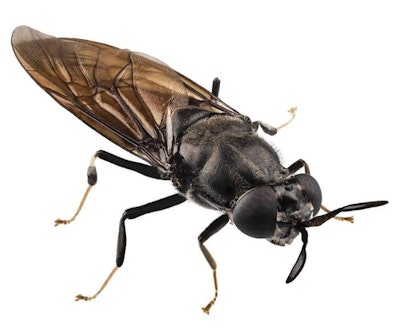 More feed ingredients to work with means more resiliency for the industry
Insects can provide new solutions for animal diets and many benefits, but the industry faces challenges too, according to Stephanie Collins of Dalhousie University in Nova Scotia, Canada.
Collins, faculty member of Dalhousie's Department of Animal Science and Aquaculture, spoke during the Alltech ONE Virtual Experience.
"It's important for us to remember that agriculture is constantly working on developing new tools, new technology in terms of animal nutrition, also new feed ingredients, and looking for different solutions with worldwide applications," Collins said. "One of these new feed ingredients or classifications of new feed ingredients is insects. And, actually, within insects, there are a number of different species that we could feed. And within those species, there are different products that we can derive from them. And each one of these new feed ingredients adds to our available tools. They add to our list of resources and give us more power when we are formulating our animal diets."
Having new feed ingredients like insects helps keep the industry resilient.
"The more feed ingredients we have available for our use, the more resilient we are able to be," she said.
Benefits of feeding insects to animals include that they require little land and water, can be farmed vertically and can divert post-consumer food was to develop a high-value feed ingredient. However, barriers remain.
"Key barriers to use of insect products in poultry diets right now would include availability, and cost is fairly high on the list," Collins said. "Additionally, a lot of these feed ingredients are novel feed ingredients. And depending on where they are produced, there is regulatory approval that's required before they can be included in animal diets."
Because many regulatory approvals require production data, there is much research being done in this area.
Nutritional benefits for poultry
The chitin in insects' exoskeletons is an insoluble carbohydrate that is thought to contain antimicrobial properties, as well as a bioactive component, Collins said.
"The protein value is quite strong in some of these products, but additionally, if we were to include a high-chitin product that has a number of antimicrobial properties, this could be a tool that we use to influence bird health throughout the production cycle," she said.
Nutrient composition can vary between species of insect, as well as across life stages and depending upon rearing conditions. And, for each insect, form of presentation can vary, Collins said.
"A full fat insect meal is quite common. However, in an animal like a laying hen perhaps, fat composition may limit inclusion of that product in the diet. So, a defatted insect meal might be something more beneficial. And from defatting an insect meal, we can end up with an oil product, which could be used as an energy source," she said.
A replacement for plant-based protein?
Collins said she doesn't expect to see insect-based protein replace other protein products, but to be a good option for alternatives.
"I don't see us completely replacing one plant-based protein product with an insect-based protein product," she said. "But I could see people formulating diets based on cost, based on nutrients, based on additional bioactive or antimicrobial capacity, and finding a diet that works for your chickens."
Collins said growth of insect meal use in global feed production will depend on availability of insect species and feedstock for those insects.
"I believe that developed countries do have an opportunity to be a prime user of insect protein," she said. "And that's because we produce a fair amount of waste. And this is food waste that could be upcycled into a high-value product. And doing so, if we were to take this feed ingredient and feed it to our animals, it would be environmentally sustainable. And also could be useful in terms of health benefits for our poultry."
Learn more: Register to attend the webinar, "Challenges and opportunities for insect meal in animal feed," presented by Feed Strategy, WATTPoultry and WATT Global Media.