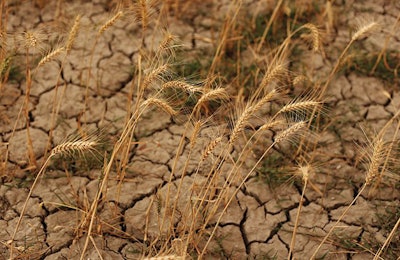 While the government in New South Wales is offering emergency support to farmers in regions hit by drought and bush fires, the federal administration is turning to costly desalination to provide water for fodder production.
Emergency distribution points have been set up to provide fodder for farmers in New South Wales.
Supplies of livestock feeds and fodder have been destroyed by prolonged drought and recent bush fires by the state's Department for Primary Industries.
According to Agriculture Minister Adam Marshall, the Department for Primary Industries and land service officers are helping farmers with animal welfare issues. They are helping to provide emergency supplies of water and livestock fodder, as well as advice on animal health and nutrition. More than 1,800 animals are being cared for by more than 700 staff at around 20 evacuation centers.
Desalination: A solution to Australia's water shortage?
For the first time since its completion, a desalination plant is operating near the city of Adelaide in South Australia.
The move is a key part of the federal government's Water for Fodder plan, according to the Australian Broadcasting Corp. (ABC). Pasture and fodder will be used to maintain the country's breeding herds, and ensure food security in the long term.
In the past, the high price of water in the key livestock-producing area of the Murray Darling Basin made it uneconomic for farmers to consider irrigating crops grown for fodder during the dry summer months.
Responding to one of the worst droughts in Australian history, the federal government has called on the Adelaide desalination plant to produce 40 billion liters of water for the city's use. In return, the federal government will sell the city's River Murray entitlement cheaply to farmers to grow fodder for hungry livestock.
This government plan aims to support smaller farmers, allowing them to produce grass or hay to feed their animals, as well as to make rural families more resilient to adverse climatic conditions. Each farmer will receive 25 million liters of subsidized water to grow about 120,000 metric tons of fodder, according to the ABC report.
The AUD1.8 billion (US$1.2 billion) desalination plant near Adelaide was built in response to the last major drought, but has had little use since its opening in 2013. To provide water for the city, it will run at between 80% and 90% of its capacity — that is, producing 270-290 million liters of fresh water daily. The process involves reverse osmosis from seawater.
Use of the desalination plant and the administration's plans are not without critics.
At about AUD950 per liter for desalination, cost is among the leading factors, according to Professor Lin Crase, an economist at the University of South Australia. He also highlighted the practical challenges of assessing how much water is delivered to the farming recipients, and monitoring the purpose for which it is used.
Despite the critics, Australia has limited alternative options in the face of the drought conditions.
Drought mitigation in the longer term
Professor Richard Kingsford, an ecologist at the University of New South Wales, told ABC it would be a travesty if the federal government turned to using environmental water for agricultural use.
To complete its Water for Fodder plan, the federal government will need a further 60 billion liters of water.
South Australia's government is not prepared to make a commitment about the additional water yet. Water Minister David Speirs said this would depend on water storage and weather patterns in the state in 2020.
Australia's farmers have recently met to discuss how to manage present and future drought with officials from the country's government. The National Farmers Federation has drawn up several requests to help support struggling rural communities.
Experts forecast that the drought conditions may adversely impact Australian feed production for several years.