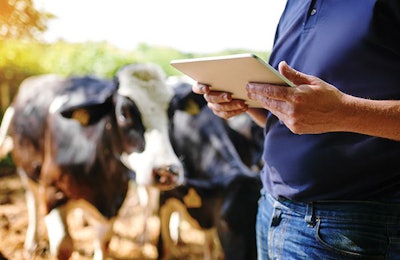 Tech startups are empowering dairy farmers to run their businesses more efficiently and raise healthier, happier cows. And as more hardware, software and data platforms trickle onto the market, there are some clear and significant gains to be made in feed.
Reshaping feed formulations
Technology developments will increasingly deliver productivity and efficiency benefits of precision nutrition to dairy feed formulation and production.
"We know the farm is starting to feed back precise pieces of information about dairy cows, but there isn't a feed mill in the world that can, today, adapt that information in real time," says Aidan Connolly, CEO at Irish startup Cainthus, a tech firm with a computer vision and predictive imaging system for dairy farms.
On-farm CCTV, artificial intelligence and custom algorithms enable Cainthus to track individual cow behavior and the current "razor focus" is on monitoring feed and drinking patterns, Connolly says. Eventually, the company wants to develop enhanced vision systems to detect traits and trends missed by the naked eye, taking dairy into the augmented intelligence realm — far from where it is now.
"We don't know how much animals eat on an individual basis or in real time; we don't have any idea what's being consumed minute by minute or hour by hour and there's not much precision information on respective nutrients," he says. "A lot is based on crude analysis, lab analysis and, frankly, I believe we have the ability to engage in the farm more precision nutrition."
This opens the door to many new possibilities.
"If you actually could make a feed that produces meat, milk or eggs precisely and accurately, you might choose to make a totally different type of feed or process it differently. Everything about how the feed is made could change," Connolly adds, noting that he believes the dairy industry will be formulating feeds differently within five years.
Yasir Khokhar, CEO at Connecterra, a Dutch artificial intelligence (AI) startup, agrees: "The early adopters in the feed industry are certainly moving — they see the benefit."
Connecterra's AI system Ida tracks a range of dairy cow behaviors, including eating, ruminating, walking and chew count, through sensors attached to collars. This can then be combined with other farm insights — feed type and feed strategy, for example — to produce predictive models that help improve on-farm efficiency.
"Feed products are highly commoditized and feed companies are looking for feed differentiation and how to empower the feed adviser," Khokhar says. "What if we could tell you what's going to happen by predicting the changes we're seeing in the behavior? You change the feed today and tomorrow we'll be able to tell you what the change in behavior was."
This, Khokhar says, creates much more meaningful conversations between farmers and feed advisers.
Today, there is a disconnect because feed firms just don't have access to precise information, despite providing high-dollar products crucial to animal health, growth and overall output, says Dane Kuper, CEO and co-founder of U.S. ag software startup Performance Livestock Analytics (PLA).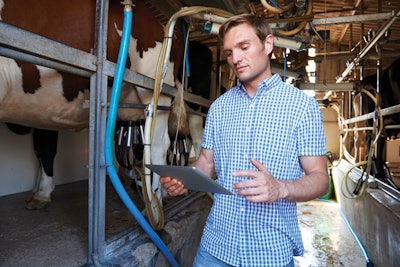 Startups are looking to create a digital ecosystem to improve farm efficiencies. (Highwaystarz Photography | iStock.com)
Creating a 'digital ecosystem' and smart farms
Historically, livestock has worked offline, Kuper says, and so the goal of PLA is to bring everything online and normalize powerful cloud computing in the sector, or in other words "create a digital ecosystem."
PLA's cloud software collates real-time data from the farm, including information on feed deliveries, financials and performance, and inputs this into a user-friendly interface, accessible to all stakeholders. Its open source design also means hardware and software programs can connect and integrate easily.
"To be able to add those other technologies, we think, is empowering. It's customer-centric and, really, it's what needs to happen in this industry," Kuper says.
John Foltz, chair of the Department of Animal Sciences at Ohio State University, says there are plenty of "little silos" with great ideas, many of them startups, but the question is how industry operationalizes it all.
"There's a lot of smart people out there but people can get smarter if we get together and brainstorm," Foltz says.
"One of the challenges we have in agriculture is people think we're kind of old school but the reality of it is, with some of these pieces of technology and data coming on, if we can apply some good thought to it, there's some amazing things that could happen," he says.
Big data utilization
Ohio State University recently signed a memorandum of understanding (MoU) with Australian tech startup Agersens to trial its virtual fence technology co-developed with Australia's national research agency CSIRO. The eShepherd uses smart collars that respond to virtual fence boundaries, enabling farmers to move herds remotely and control grazing and foraging, saving labor and costs.
"The technology, to me, is fascinating, it's brilliant," says Foltz, but Agersens, like others in the startup field, he says, is facing the challenge of battling to bring a product to market, researching it and satisfying investors all at once.
"I think we're on the precipice of figuring some of this stuff out and how to use this big data," he says. "The virtual fence has the ability to control the animal, but it also has the ability to gather this data on their movement and then match that up to their behavior."
Ian Reilly, CEO at Agersens, agrees this represents a "big opportunity."
"The farmer can look at their cattle and look at where they were grazing for the last two weeks or day, where they haven't grazed, how much time they're spending there, how much time they spend ruminating, grazing, resting and at what time of the day," Reilly says.
This can then be matched to productivity — liters of milk or mass of milk solids produced — to establish which cows are performing better, he says.
Genetics, breeding and precision nutrition one step closer
Within a herd of 100 dairy animals, for example, anywhere between 5% to 10% could be unproductive, Reilly says. Agtech enables a farmer to focus on those individual animals and find out why, he says.
The "why," Reilly says, could relate to grazing patterns or the health of an individual animal, but it might also relate back to genetics.
"We get interest from genetics companies and cattle breeders in terms of phenotyping characteristics," Reilly says. "Our collars not only have a GPS, they have an inertial motion monitor — you can measure the degree of excitement and activity and a whole lot of other things. Those genetics companies and breeders are wanting to be able to independently phenotype behavioral characteristics and selectively breed based on that."
At the moment, Reilly says this is "very difficult to do" but strong partnerships with research organizations, universities and other companies will make this easier in the future.
Aaron Ingham, productive and adaptive livestock group leader at CSIRO, adds it will also become even easier as more meaningful, large-scale data comes online.
"New traits for breeding will be developed from the data that is generated and new approaches to managing animals," Ingham says.
Individualized and targeted nutritional supplementation strategies, for example, will become more widespread and certain devices may even provide insight into animal preferences and well-being, he says.
Ed Charmley, animal health, welfare and microbiology group leader at CSIRO, agrees: "The idea of individual precision supplementation for grazing animals — where each animal gets just what it needs to keep it on a growth trajectory to meet a market specification at a set point in the future — is a goal that these technologies will eventually make achievable."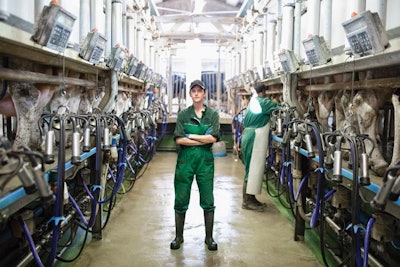 Robotic milking is just one reason dairy is ahead of the game in livestock ag tech. (Deimagine | iStock.com)
The 'multi-billion-dollar opportunity'
CSIRO is working with Australian livestock management startup Ceres Tag on a smart ear tag and data platform that uses satellites to monitor positioning, movement and welfare of livestock. A commercial trial of 500 units is planned soon and David Smith, CEO at Ceres Tag, says the product should be available on the market before the end of 2020.
"The feed sector have a very big interest in this type of technology as it will help them understand and guide their customers on the type of feed and quantity to maximize their outputs from their animals," Smith says. "It makes so much sense, rather than wasting money on feed that is not converted to production and hence profit."
The future of ag tech in livestock, Connolly says, is a "multi-billion-dollar opportunity" and there's plenty of venture capital interest, but barriers have kept adoption slow. Farmers, for example, remain skeptical of the benefits, he says, and feed firms remain uncertain on what lies ahead.
For Khokhar, the key to overcoming these barriers will be collaboration.
"I don't think anybody can do this alone," he says. "It has to be a partnership between industry, tech companies and the farmer. Without those three things, you can't make further progress. No one party has enough cards to move industry forward."