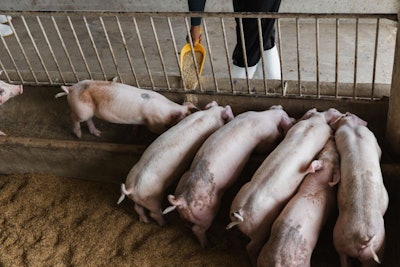 As the number of wild boar affected with African swine fever (ASF) continues to grow in central and eastern Europe, Germany has developed a crisis management plan aimed at keeping its pig farms free of the disease.
Poland has registered its first outbreak of African swine fever (ASF) in domestic pigs in 2021.
Affected was a farm with almost 16,000 pigs at Niedzwiady in Lubusz, according to the chief veterinary office.
Located in the east of Poland, Lubusz province borders Germany. This source reports that the most recent previous outbreak among Polish domestic pigs was confirmed at the end of October 2020.
Poland's first ASF outbreak in domestic pigs was almost exactly one year ago. Since then, a total of 104 primary outbreaks have been officially recorded, including now 15 at premises described as "farms." The latest outbreak involves the second largest pig herd to be hit by the disease. The most animals involved at a single Polish location — more than 23,700 — were at a farm in the same province in the country's first outbreak confirmed on March 20, 2020.
This latest outbreak brings the total number of pigs directly involved in ASF outbreaks in Poland to just under 73,000.
Over the past week, the chief veterinary office has also released details of a further 124 ASF outbreaks among Poland's wild boar population. A total of 236 animals were involved in these outbreaks, which were suspected between February 14 and March 7. The animals were located in eight provinces of eastern and western Poland. Several outbreaks occurred in the same county of Lubusz as the latest domestic cases.
Europe registers 282 outbreaks in domestic pigs this year
Latest update from the European Commission (EC) puts the number of ASF outbreaks in domestic pigs so far this year at 282.
According to the EC Animal Disease Notification System, as of March 7, this is an increase of 66 from the previous report dated February 21. Of these, 62 were in Romania, bringing the country's total to 265. In 2021, Serbia has recorded a total of 15 outbreaks, and Ukraine's total remains at two.
Germany develops ASF crisis management plan
In a statement last week, the German Parliamentary State Secretary stressed the importance of all German states working consistently and together to eradicate ASF from the country.
The primary threat to the country comes from its eastern border with Poland. Secretary to the federal agriculture ministry, Uwe Feiler, urged state authorities to increase hunting for wild boar, and ensure that the newly erected fences are effective in controlling the movements of these animals. As the holiday season starts, he said border states must ensure all visitors are aware of the risks, abide by entry bans, and know what they may and may not do.
So far, there have been no cases of ASF among domestic pigs in Germany. If the disease were to affect this population, Feiler warned that the effects would be devastating.
Cases in German wild boar total reach 850
The number of wild boar in Germany testing positive for the ASF virus has reached 850. According to the national veterinary agency, the Friedrich-Loeffler Institute, this is an increase of 25 from March 15. Latest cases were found in the same five districts of Brandenburg and one region of Saxony as previous outbreaks.
With 779 confirmed cases since September 2020, the eastern state of Brandenburg continues to be the worst-affected state. Positive cases have been detected in five districts, including most recently the city of Frankfurt (Oder), according to the state agriculture ministry.
Neighboring Saxony is the only other state where ASF-positive cases have so far been detected among wild boar. Its total stood at 65 as of March 18. This is four more than the previous week, reports the Saxony agriculture ministry. All infected cases have been found in the district of Görlitz.
Wild boar ASF situation elsewhere in Europe
As of March 7, the EC system had registered 3,085 outbreaks of ASF among European wild boar so far this year. This is an increase of 579 from the previous status on February 21.
Of the total, Hungary has been worst affected, recording 968 outbreaks for the year so far — an increase of 179 from the previous EC report. Next are Poland with 722 outbreaks, followed by Romania (435), Germany (379), Slovakia (328) and Bulgaria (124). Cases have also been confirmed in four other European states this year — Estonia, Italy, Latvia and Lithuania.
Over the past week, veterinary authorities in Latvia and Russia have confirmed new cases to World Organisation for Animal Health (OIE).
For Latvia, this involved 23 animals found at 13 locations in the period February 21 to March 8.
Four wild boar were found dead in Samara oblast (Volga federal district) of Russia during the third week of February. In a national park in Voronezh oblast (Central district), there were 12 dead animals this month.
Latest official reports to the OIE from Moldova indicate no new ASF cases in wild or domestic animals since May 2020.
Globally, ASF continues to be a major driver of pork markets, according to a report by international analysts. Causing uncertainty, the disease is particularly impacting China and Germany. In Vietnam, the market has begun its recovery.
View our continuing coverage of the global African swine fever situation.