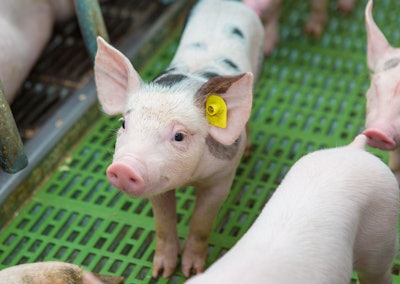 AntonMaster | BigStockPhoto.com
For the first time, presence of the African swine fever (ASF) virus has been confirmed in the south Italian regions of Calabria and Campania.
In both of these regions, the initial cases were detected in wild boar, and the source of infection is unknown. Italy's ongoing ASF outbreak series are in the northwest and in the Rome area, which are not adjacent to the newly infected areas.
At the end of April, four wild boar tested positive for the virus in Calabria, according to the official notification to the World Organisation for Animal Health (WOAH).
Subsequent reports have confirmed one additional case in a wild boar in this region in the southwestern "toe" of the Italian peninsula. In Calabria, the infection has since spread to two herds of domestic pigs described in the notifications as "farms" in the municipality of Africo. There were two deaths among 69 animals at the first premises, and 11 animals died out of an unspecified number at the second.
Just four weeks later, five wild boar tested positive for ASF in Campania, according to the WOAH report. They were found at one location in Salerno, which is a province in the south of the region that includes Naples.
Since early 2022, ASF outbreaks have been ongoing in Piedmont and Liguria in the northwest, as well as in Lazio in central Italy. With one exception, all the cases in these three regions have involved wild boar.
Report: EFSA urges disease vigilance
Compared with the previous year, there was a marked reduction in ASF outbreaks in European Union (EU) member states in 2022. This is according to an annual review by the European Food Safety Authority (EFSA) published last week.
Among the domestic pigs population, the number of outbreaks within the EU was down 79% year-on-year, EFSA reports, with cases detected in eight member states. Furthermore, outbreaks occurred in four neighboring nations — Moldova, North Macedonia, Serbia and Ukraine. Worst affected was Romania (327 outbreaks in 2022), followed by Serbia (107). For the first time, cases were confirmed in North Macedonia.
Since ASF was first detected among European wild boar in 2014, the number of cases declined by 40% in 2022 compared with 2021. Last year, cases in this population occurred in 11 EU member states, and well as adjacent non-members Moldova, North Macedonia, Serbia and Ukraine.
Commenting on the report, EFSA Executive Director Bernhard Url said that the results show encouraging signs that efforts to halt the spread of the virus may be taking effect. However, he called for continued vigilance by farmers, hunters and veterinarians for signs of the disease in domestic and wild pigs.
Outbreaks in Europe's domestic swine approach 200
So far in 2023, the total number of confirmed ASF outbreaks on farms and in backyard herds is 192. Covering EU member states and immediate neighbors, this is according to the Animal Disease Information System of the European Commission (EC; as of May 19).
Registering the most outbreaks in this category is Serbia with 86 so far this year. This represents an increase of 39 since the EC's previous report dated April 28. Next comes Romania with a total of 76 since the start of January, and Moldova with 15.
Between one and three outbreaks in domestic pigs have also been recorded through this system by Germany, Greece, Italy, Poland and Ukraine.
In mid-May, a second farm outbreak was confirmed in Greece. Affected was a herd of 31 pigs about 10 kilometers from the previous outbreak reported in April, according to the WOAH notification.
ASF hits 2 Romanian farms
Further detail on these outbreaks is given in the reports of the national veterinary agencies to WOAH.
Of the many confirmed cases in Romania since 2019, the great majority have been in small backyard herds. However, two of the latest outbreaks have involved large commercial units. In mid-May, presence of the ASF virus was confirmed at a farm with approximately 17,900 pigs. Of these, 16 animals died at the premises in the westernmost county of Timis. Operated by Smithfield (part of the WH Group), the infection was detected through routine testing, according to Schweine.
Just three days later, presence of the ASF virus was confirmed in another commercial pig herd in Satu Mare. Located in the northwest of Romania was the farm with almost 13,700 animals, 45 of which died.
In Russia's Volga federal district, further mortalities from ASF were reported to WOAH by the veterinary authority. Six more pigs died and 46 were culled at a small farm in Samara oblast in an outbreak that began in early April.
Meanwhile, the animal health agencies of Bulgaria and Moldova have declared to WOAH that the ASF situation is "resolved."
For Bulgaria, this came after a single outbreak at a farm in a central-southern province in October 2020. Recently, the Moldovan authority made a similar declaration covering Ungheni. Starting in March, two outbreaks in backyard herds and 19 cases in wild boar were confirmed in this central-western district.
ASF cases in European wild boar pass 4,100
Already this year, the total number of ASF outbreaks across Europe has reached 4,175, according to EC's information system (up to May 19). This the latest total from 16 countries registering one or more outbreaks through this system since January 1. Since the EC's previous update dated April 28, 13 states have reported new cases in this population.
Registering the highest number of outbreaks in this category so far this year is Poland with a total of 1,554. Following are Germany (now with 603), Italy (489), Slovakia (401), Hungary (275) and Romania (202).
Also reporting new ASF outbreaks to the EC System since the previous update were Bulgaria, the Czech Republic (Czechia), Latvia, Lithuania, North Macedonia, Serbia and Ukraine.
In Ukraine, the ASF virus has been detected for the first time in over four years in the Transcarpathian oblast (Zarkarpattia). In this western province approximately 20 kilometers from the border with Slovakia, two infected animals were found dead this month.
As a result of a spread in wild boar infections, the Czech state veterinary service has announced an extension to the ASF "buffer zone" this month. This is the area of additional disease controls surrounding the infected zone in the northern province of Liberec. Now covering 530 square kilometers, restrictions in the enlarged "buffer zone" cover hunters and hunting. These include the requirement for all dead and hunted wild boar to be tested for ASF, as well as controls on the movements of domestic pigs.
In Germany, the national veterinary agency — the Friedrich-Loeffler Institute (FLI) — reports 59 cases of ASF in wild boar confirmed this month (to May 26). All these animals were found in the eastern states of Brandenburg and Saxony where previous cases have been detected.
Since ASF was first detected in Germany in September 2020, virus-positive cases in the country's wild boar stand at 5,309. According to the FLI on May 12, this total figure includes 59 cases confirmed over the previous 28 days.
Germany set to resume pork exports to South Korea
After extensive negotiations, a key market in Asia has finally reopened for exports of German pig meat, according to Germany's federal agriculture ministry (BMEL).
For more than two years, the trade to South Korea was suspended as a result of ASF outbreaks. However, the Korean authorities have now inspected and re-approved German slaughterhouses and processing plants for exports to the East Asian state. Furthermore, South Korea formally recognized EU regionalization in September 2022.
Prior to the ban, in 2019, Germany exported around 106,000 metric tons of pork products to South Korea valued at EUR289 million.
According to the minister, national authorities continue to negotiate the lifting of similar bans on German pork with other key export destinations.
View our continuing coverage of the global African swine fever situation.