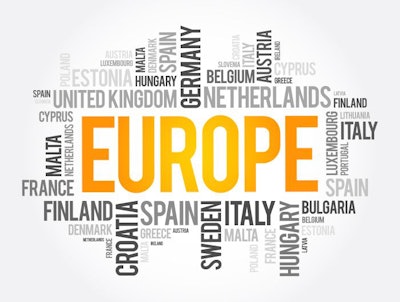 Only 2 European countries have registered further cases of African swine fever in domestic swine, and these affected small backyard herds.
Over the past two weeks, the only European states to have registered new cases of African swine fever (ASF) in domestic pigs have been Romania and Serbia.
Seven further outbreaks have been reported in Romania. This is according to the latest notifications to the World Organisation for Animal Health (WOAH) from the national veterinary agency. Directly impacted were a total of 48 swine.
With each of these outbreaks occurring in a different county — two in central-southern Romania, and the other five in the north of the country.
3 European states record ASF cases in pigs during April
Earlier in April, first cases were confirmed in Poland since September 2022.
As a result, Poland became the seventh state in Europe to register one of more outbreaks of ASF among domestic pigs so far in 2023. This is according to the latest update of the Animal Disease Information System of the European Commission (EC; dated April 21). Only Poland, Romania and Serbia had confirmed new cases in this population up to that date in April.
Registering the most outbreaks in this category so far is Romania with 62 so far this year. Next comes Serbia — now with 47 reported outbreaks since the start of January. The Serbian total increased by eight since the EC's previous update dated April 14.
Meanwhile, Moldova's total in domestic pigs remains unchanged since March 20 at 15. Furthermore, the EC has been notified of two outbreaks in Ukraine, and one each in Germany and Italy.
ASF cases in European wild boar approach 3,500
Already this year, the total number of ASF outbreaks across Europe has reached 3,478, according to EC's information system (as of April 21). Sixteen countries have registered one or more such outbreaks through this system since January 1, including eight states since the EC's previous update dated April 14.
Registering the highest number of outbreaks in this category so far this year is Poland. With an increase of 56, the Polish total has reached 1,240. Following are Germany (now with 545), Italy (373), Slovakia (331), Hungary (227) and Romania (180).
Also reporting new ASF outbreaks to the EC System since the previous update were Latvia and Lithuania.
Furthermore, in Ukraine, the first ASF infection has been confirmed in the northwestern province of Volyn for three years. At the end of last month, one wild boar from a forest area tested positive for the virus, according to the WOAH notification. Source of the infection is unknown. Although Volyn borders Belarus and Poland, the animal was found more than 40 kilometers from either international frontier.
In Italy, 612 cases of ASF have been detected in Piedmont and Liguria, reported RAInews on April 24. First cases in these regions in the northwest of the country were in January 2022. Since then, one or more infections have been confirmed in 82 municipalities.
In the central Italian region of Lazio, the ASF situation appears to be stable. No new cases there have been registered with WOAH since September 2022.
Disease developments in central Europe
Over the past 10 days, the Polish veterinary office has recorded a further 67 outbreaks in wild boar in seven different provinces. They were either found dead or tested positive after being shot. Involving 131 animals, these were suspected in the period March 27 to April 12. They bring the country's total ASF outbreaks in this population to 1,165 so far this year, according to this source.
In Germany, the national veterinary lab — the Friedrich-Loeffler Institute (FLI) — confirms 80 cases of ASF in wild boar during the month of April (up to April 28). All were found in one of three districts in each of the eastern states of Brandenburg and Saxony.
Since ASF was first detected in Germany in September 2020, virus-positive cases in the country's wild boar stand at 5,284. This is according to the FLI on April 28. This figure includes 80 cases confirmed over the previous 28 days.
In the Czech Republic (Czechia), a further two wild boar have tested positive for the ASF virus, according to the state veterinary service. They bring to 12 the number of confirmed cases in this population since December 2022 (up to April 28). Previously, the country had been ASF free since 2018. All the latest cases were found in the same "closed zone II" in Liberec. Located in the north of the country, this region borders Germany and Poland.
A recent study in the German state of Bavaria reveals two aspects of the behavior of wild boar that are relevant to ASF control.
First, animals generally remain within a radius of around six kilometers, according to the national industry publication, Schweine. Second, wild boar tend not to undertake seasonal migrations, unlike some other wild animals.
View our continuing coverage of the global African swine fever situation.