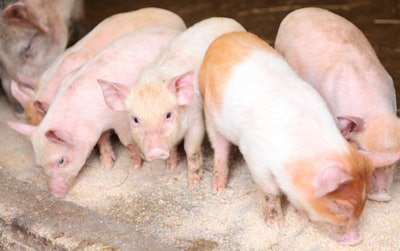 Swine Health Information Center receives $650,000 from the National Institute of Food and Agriculture
The Swine Health Information Center (SHIC) received a US$650,000 USDA National Institute of Food and Agriculture (NIFA) grant for research designed to reduce the risk of imported feed ingredients, specifically soybean products, from spreading African swine fever (ASF) virus in the domestic swine herd. This four-year project will define the stability of ASF virus in soybean products commonly imported into the U.S. for complete feed diets as well as improve diagnostic capabilities and surveillance tools for the detection of ASFV in contaminated soybean products and complete feed.
SHIC works diligently to provide tools and resources to help prevent the introduction of ASF virus into the U.S. This critical task includes biosecurity research on feed as a common input onto swine farms. Feed biosecurity is an important aspect of overall agricultural biosecurity as it is known that contaminated feed and ingredients can serve as a source for introduction and spread of transboundary diseases. Soybean products, widely used in complete pig feeds, are globally traded and serve as a potential risk if imported from ASF virus-endemic countries or regions.
USDA NIFA awarded the grant to SHIC, where associate director Dr. Megan Niederwerder will serve as project director. This work will benefit pork producers, better equipping them to address foreign animal disease vectors. SHIC has awarded the U.S. Department of Homeland Security Science and Technology Directorate a funded Cooperative Research and Development Agreement to complete the research objectives.
This project will include standard operating procedures for in vitro diagnostic assays, including quantitative PCR to detect the ASF virus genome and end-point virus titration to quantify infectious ASF virus, as well as an in vivo swine bioassay. Resulting outputs include the rate of ASF virus genome and titer decay as well as inactivation at different time by temperature points. Outcomes of this project will be presented at national and international conferences and will be published in peer-reviewed manuscripts. Project objectives will help define the relative risk of various soybean products that are used in swine diets. Adoption of feed risk mitigation strategies recommended based on the data generated in this project will help enhance the U.S. border security against ASF virus entering the country.
This work is supported by A1181 Agricultural Biosecurity grant no. 2022-67015-38576/project accession no. 1029316 from the USDA National Institute of Food and Agriculture. Any opinions, findings, conclusions or recommendations expressed in this publication are those of the authors and do not necessarily reflect the view of the U.S. Department of Agriculture.