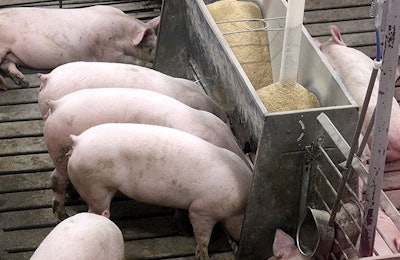 In North Macedonia, Romania, Serbia and Ukraine, further cases of African swine fever (ASF) have been recorded in backyard and small commercial herds of domestic pigs.
Since January 1, the number of confirmed African swine fever (ASF) outbreaks in domestic pigs in Europe has reached 524. This is according to the latest results latest update from the European Commission (EC) through its Animal Disease Information System (as of December 18).
So far this year, 12 European states have officially registered one or more ASF outbreaks through this system. For comparison, 11 European states registered a total of 1,874 ASF outbreaks with the EC over the whole of 2021.
Registering by far the most outbreaks in 2022 with the EC has been Romania with 321, including eight new outbreaks since December 5. Also recording new cases over the past 13 days were Serbia (now with a total of 103 outbreaks for the year), North Macedonia (30) and Ukraine (seven).
Further details of recent outbreaks were officially reported to the World Organisation for Animal Health (WOAH) by the veterinary authorities of two of these nations.
In Romania, there has been one new outbreak among 388 pigs on a premises described as a farm, along with 14 additional outbreaks in non-commercial herds of up to 77 animals. Directly impacted were a total of 667 pigs through mortality or culling.
After a hiatus of 20 months, Ukraine's animal health agency has notified WOAH of new cases of ASF in Mykolaiv.
In this southern region, ASF virus has been detected on two farms since the start of December. Affected have been a total of 141 pigs, 10 of which died. They were located at two premises in the same district, and around 25 kilometers apart. Source of the infection is unknown.
Europe's wild boar total for year passes 7,000
So far this year, 7,081 ASF outbreaks among wild boar have occurred in Europe, according to the latest update of the EC's disease information system (as of December 18).
This is an increase of 281 from the previous update on December 5. Fifteen of the continent's states have registered one or more cases of the disease in the wild population so far this year. Most recent was the Czech Republic at the beginning of December.
For comparison, 12 countries confirmed with the EC one or more ASF cases among the wild population — a total of 12,150 outbreaks — during the whole of 2021.
Among wild boar, recording the most outbreaks with the EC in 2022 has been Poland (2,012), followed by Germany (1,570), Latvia (874), Hungary (535), Slovakia (540) and Romania (447). All of these states recorded new outbreaks with the EC since December 5, along with Bulgaria, Estonia, Italy, Lithuania and Serbia.
Italy reports first case in third northwestern province
In a significant development, Italy has confirmed with WOAH that the first wild boar has tested positive for the ASF virus in Savona. This province is located in the country's northwestern region of Liguria, where previous cases have been confirmed in Genova, as well as in Piedmont — the region that borders Liguria to the north.
Furthermore, cases have been registered in the central Italian region of Lazio between May and September. To WOAH, Italy has notified a total of 257 ASF-positive wild boar so far in 2022.
Since ASF was first detected in Germany in September 2020, 4,649 cases have been confirmed in wild boar, according to the national veterinary agency, the Friedrich-Loeffler Institute (as of December 16).
Meanwhile, Poland's total outbreaks in its wild boar population has reached 1,880 for the year so far, reported the chief veterinary office by December 23. Latest reports cover 147 new cases in nine provinces between November 18 and December 12.
Czech Republic extends ASF control area
In the Czech Republic, ASF was detected at the end of November for the first time in almost five years. Testing positive for the virus was a single young wild boar found dead in the northern region of Liberec.
So far, no further ASF cases have been reported in the country. However, the state veterinary service has announced an extension to the ASF controls. In Liberec, there is a new "closed zone" covering an area of 530 square kilometers around the "infected zone" — a 200-square-kilometer area where the ASF case was found.
Within the "closed zone," hunting will be permitted, and a fee will be paid to hunters for each wild boar shot. However, all hunters will have to undertake prior training, and blood or organ samples must be taken for testing from each wild boar killed.
Meanwhile, movements of domestic pigs in the closed zone are now limited to transportation to a slaughterhouse. Furthermore, authorities are urging pig farmers to maintain high levels of biosecurity to protect their animals from infection.
Update on ASF situation in Russia
EC does not include Russia in its animal disease reporting system.
According to the latest notification to WOAH, the ASF situation has been "resolved" in Vladimir. In this region in the Central federal district, three outbreaks were confirmed between August and November. One of these involved a backyard herd of non-commercial pigs, while the others each affected one wild boar.
Among Russia's wild population, a total of 24 new cases have been registered with WOAH. Infected animals were found in the Oryol and Tver regions of the Central federal district, as well as in three oblasts in the Volga federal district, namely Nizhny Novgorod, Samara and Saratov.
Last week, it was announced that a "promising" ASF vaccine candidate has been developed in the United States, and been licensed for commercial development.
View our continuing coverage of the global African swine fever situation.