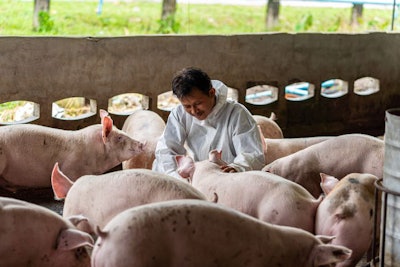 Among Asia's domestic swine, further outbreaks of African swine fever (ASF) have been reported in Bhutan, India, Nepal, the Philippines and Thailand.
Over the past 12 days, the veterinary authority of Nepal has officially registered four further African swine fever (ASF) outbreaks. This is according to the latest notifications to the World Organisation for Animal Health (WOAH).
Affecting a total of 361 domestic swine, these occurred in the country's Central, Mid-Western and Western regions. Two of the outbreaks were confirmed in September, one in October and the latest began on November 12.
Since ASF was first detected in Nepal at the end of March, 32 outbreaks have been confirmed with WOAH. More than 19,800 pigs have been directly impacted through mortality or culling in all five of the regions of Nepal.
Second outbreak in Bhutan
After the deaths of 11 pigs at a farm in southeastern Bhutan, presence of the ASF virus was confirmed. According to the latest WOAH notification, affected was a non-commercial herd comprising a total of 230 pigs in early November.
After a four-month hiatus, ASF was detected again in Bhutan at the start of November. Affected was a backyard herd of 750 animals in the same district, Samdrup Jongkhar. Testing positive for the virus were four pigs that had been imported from the neighboring Indian state of Assam.
Thailand registers 107th ASF outbreak
This month, 67 pigs died out of a village herd of 96 animals in the southern Thai province of Nathom Si Thammarat. The rest of the herd has been culled, according to the recent WOAH report.
Since the nation's first recorded ASF cases one year ago, 107 outbreaks have been registered with WOAH. More than 3,500 pigs have been directly involved through mortality or culling over this time, based on these official notifications. One or more cases have been confirmed in 34 provinces in all six regions of Thailand.
Two Philippines regions with ASF infections
The Philippine News Agency (PNA) reports ongoing outbreaks in two ASF "hot-spots" in the country.
In the Western Visayas region province of Iloilo, first cases of the disease have been recorded in Iloilo town. As of November 24, there were four zones in the town with confirmed infections. Within 500 meters of confirmed cases, all pigs are being culled.
Over recent weeks, efforts have been made to control ASF in Zamboanga city. This is the main urban center in the Zamboanga Peninsula region in northwestern Mindanao.
In this area, PNA reports 4,646 pigs have died, and a further 1,080 culled, impacting the livelihoods of almost 1,110 hog owners. Recently, authorities there have increased disease surveillance, as a first step toward the restoration of ASF-free status.
South Korean pork imports resume to Malaysia
In South Korea, the number of confirmed outbreaks in domestic pigs remains at 28. Most recent cases were at a farm in the northeastern province of Gangwon this month.
Since the nation's first cases were confirmed in September 2019, testing positive for the virus have been wild boar in four provinces, as well as domestic pigs in three regions.
As of November 28, 2,702 wild boar have tested positive for the ASF virus, reports Pig People. This is an increase of nine cases since the previous update dated November 11.
Exports of canned pork products are set to resume to Malaysia, according to South Korea's agriculture ministry.
When ASF first hit South Korea, the trade was halted. However, the Malaysian authorities have approved one processor to resume the trade in the product, which is considered safe. Initial trade amounts to 16 metric tons, but volumes are forecast to pick up to a value of more than US$1 million annually.
ASF developments elsewhere in Asia
In Eastern Malaysia, pork sellers in the state of Sarawak report a shortage of the meat, according to The Borneo Post. Furthermore, they report prices have doubled since before the arrival of ASF in the region in early 2021.
The same source reports a local minister calling for the cooperation of the Sarawak swine industry and local people to cooperate in order to curb the further spread of the virus. Meanwhile, a local politician has called for support from the government to fund more staff for the veterinary services department.
In India, local media are reporting that thousands of pigs have been culled in the southern state of Kerala to control ASF. So far this month, the disease has been detected in six districts, reports eNewsroom. This total includes the most recent cases at farms in the district of Idukki.
So far this year, Indian media have reported new ASF cases in 16 of the nation's states.
View our continuing coverage of the global African swine fever situation.