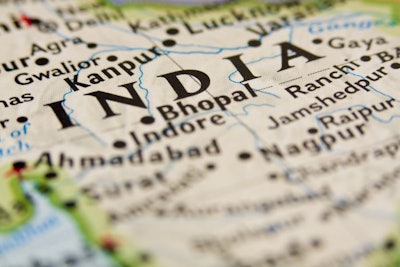 In India, confirmation of African swine fever (ASF) in Kerala brings the number of the nation's states with cases in pigs so far this year to nine.
The latest Indian state to confirm cases of African swine fever (ASF) in pigs is Kerala in the southwest of the country. Pork is not widely consumed in India, but the sector is warned about the potential devastation caused by the disease.
While there are also new cases in domestic pigs in Nepal and the Philippines, ASF outbreak cases in Russia's Urals federal district have been closed. In Australia, detection of ASF DNA in retail meats have led the government to increase border checks.
In early 2020, India's first outbreaks were detected in the northeastern state of Assam. Since then, the disease has been reported sporadically there and other states in that part of the country. In recent weeks, ASF has spread out of the far northeast in a westerly direction to Bihar and Uttarakhand.
Latest detection of the ASF virus in the far southwest of India is a significant development.
Last week, cases were confirmed at two farms in the Wayanad district, reported Live Mint. Around 300 pigs at the second farm were destined to be culled.
With this district the center for pork production in Kerala, pig farmers and slaughterhouses have experienced extreme pressure since the confirmation of the disease. Prices for the live animals and pork products have dropped sharply.
There are around 240 pig farms in Wayanad, according to Down to Earth. To support the sector, the Kerala government has announced it will buy all healthy pigs in the state at market prices. Through the state-owned Meat Products of India, the animals will be slaughtered. To ensure there is no risk of transmitting ASF further, the meat will be further processed and exported.
How the ASF virus jumped from the north and northeast of India to Kerala is uncertain. According to this source, it may have been carried on the clothes or footwear of farm workers from other states seeking employment in the state.
Warning of disease threat to India's pig industry
Recently, a report in The Hindu warned that ASF could be about to hit the whole Indian pork sector.
According to the report, northeastern states are struggling to bring the disease under control. Although ASF is not a threat to human health, it can devastate pig production as there is neither vaccine nor treatment. Increasingly, Union and state governments are enforcing strict controls over the movements of live pigs and their products, including pork.
While pork is one of the most popular meats worldwide, it accounts for just 1.7% of India's overall meat production. In 2022, the country's output was 295,000 metric tons. Most of this is in the northeast of the country. In India, both the production and consumption of pork have been rising in recent years.
Last week, an ASF alert was put in place in Maharashtra, reported Times of India. This came after the sudden spread of the disease from the northeast of the country to other states. Maharashtra is in western India.
New outbreaks in Nepal
Since Nepal registered its first ever cases of ASF in March, the number of confirmed outbreaks has risen to 16. This is according to notifications to the World Organisation for Animal Health (WOAH).
Latest to be affected were two premises described as "farms" in the official report. In late June, the disease was confirmed after 34 out of 46 pigs died in Koshi zone. In mid-July, around one-quarter of the 800 animals died at a farm in Narayani.
These zones are in the Eastern and Central regions of the country, respectively, where previous ASF cases have been confirmed. So far, 6,500 pigs have been directly involved in ASF outbreaks in Nepal.
Philippines city prepares for ASF disaster declaration
Since the middle of July, losses of pigs from ASF have been mounting in the Zamboanga city region, reports the Philippine News Agency (PNA).
In the past week, the city authorities were preparing to declare an ASF calamity status in this part of the northwestern part of the island of Mindanao. Up to that time, more than 730 herds have been infected since the first cases were confirmed two months previously. Around 2,800 pigs have died, including 746 culls.
Authorities have been conducting an awareness campaign in the city, where ASF cases have occurred in 15 of its 98 communities.
Elsewhere in the Philippines, PNA reports increased border controls on live pigs and pork products.
ASF resolved in Russia's Urals district
This month, Russia's veterinary authority officially declared ASF "resolved" in two regions in its Urals federal district. This is according to notifications to WOAH.
During September and October 2021, presence of the virus was detected at three locations in Chelyabinsk oblast. Affected were a total of 818 domestic pigs.
Meanwhile, in Khanty-Mansi Autonomous Okrug, the disease hit a small backyard pig herd in May. No further cases have been reported since that time.
Malaysian state raises pork imports
This month, the agriculture ministry in the state of Sabah approved further licenses for importers of pig meat.
Eight new authorizations were granted in this part of Eastern Malaysia to meet local demand for pork, reported The Borneo Post.
Throughout the state, more than 10,000 pigs have died as a result of ASF, according to the minister. Furthermore, 11 farms were closed in order to prevent the further spread of infection.
Once the disease is brought under control, the district of Tongod has been designated as the center for the Sabah Pig Farming Area. Comprising 44 commercial farms, the area will focus on improving productivity and biosecurity.
In February 2021, ASF virus was first detected in Sabah. Since then, outbreaks have been reported in wild bearded pigs as well as domestic animals. Up to January of this year, there had been 44 outbreaks in backyard and commercial pigs in the state. According to WOAH notifications, these had directly involved around 4,000 animals.
Outbreaks have also been reported in the neighboring state of Sarawak, and in three state in Western Malaysia.
ASF situation elsewhere in Asia-Pacific, Oceania
After the recent detection of traces of the ASF virus in a pork product at a retail outlet, Australia has stepped up disease monitoring.
The agriculture department has announced that surveillance and testing of meat and other animal products will be increased at the nation's borders and at retail outlets.
Previous tests on a processed and dried pork product from a Melbourne supermarket yielded fragments of the ASF virus. As a result of this test, some products were removed from linked retail outlets and warehouses.
As the department stressed, the finding neither affects Australia's ASF-free status, nor does it pose any threat to human health. However, controls are set to continue of high-risk products at borders carried by arriving travelers, and in mail.
The number of confirmed ASF cases in South Korea's wild boar population stands at 2,648, according to Pig People (as of July 22). This is an increase of four from the previous update dated July 11.
In addition, there have been 22 outbreaks among South Korean domestic pigs — most recently in late May.
At the end of the same month, authorities in the Hong Kong Special Administrative Region registered one case of ASF in a wild boar. Based on notifications to WOAH, no further cases have been detected.
View our continuing coverage of the global African swine fever situation.