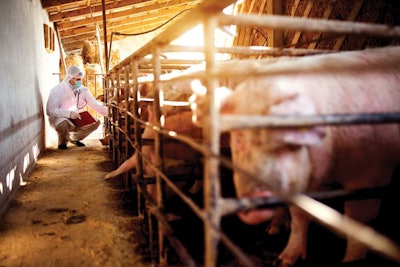 Moldova, Poland and and Russia have recorded further ASF cases in pigs, while 10 European states have confirmed new cases in wild boar.
In southern Romania, African swine fever (ASF) was confirmed at a farm with 1,738 pigs during the first week of July. More than 110 animals died and the rest have been destroyed to reduce the risk of further spread. This according to the official notification to the World Organisation for Animal Health (WOAH). It was the 11th outbreak at a commercial premises in this area since April 2021.
Also reported to WOAH were two backyard herds in central Romania, where pigs have tested positive for the ASF virus.
Latvia's veterinary authority has provided more detail to WOAH about the country's first ASF outbreak in domestic swine this year. Two weeks ago, three of the 1,460 pigs died at a farm in Kurzemes municipality in western Latvia. Subsequently, presence of the ASF virus there was confirmed, and the rest of the herd was culled.
Within a week, the disease was also detected in two small backyard herds in the same municipality. These bring Latvia's total outbreak in domestic animals so far this year to three. In 2021, ASF hit two swine herds in the country.
ASF outbreaks in Europe's pigs pass 250 this year
Since January 1, the number of confirmed ASF outbreaks in domestic pigs in Europe has reached 258.
This is according to the Animal Disease Information System of the European Commission (EC; as of July 16). Since July 3, Latvia and Lithuania have registered their first ASF cases in farms and backyards this year. As a result, 12 European states have now officially registered one or more ASF outbreaks through this system.
For comparison, 11 European states registered a total of 1,874 ASF outbreaks with the EC over the whole of 2021.
Since the EC's previous update on July 3, 12 further outbreaks have been registered with this system.
As well as the first three for Latvia and one for Lithuania, three other nations have reported new outbreaks to the EC. These were Romania (five new outbreaks), Moldova (two), and Poland (one). With an outbreak total of 176, Romania accounts for the majority of the region's ASF cases this year.
Further outbreaks in swine in central, eastern Europe
In the first week of July, Moldova's authorities reported to WOAH the first ASF outbreak in the central district of Straseni. Affected was a backyard herd of 39 pigs, 10 of which died.
Within a few days, the virus returned to Cahul after an absence of 19 months. Five of the 27 pigs died at a premises in this southwestern district that borders Romania.
Over the past 10 days, Poland's total ASF outbreaks in domestic pigs since June 1 has risen to eight.
Latest to be affected was a non-commercial herd of five animals, according to the chief veterinary office. Located in the northwest of the country in West Pomerania (Zachodniopomorskie), this is the fifth Polish province to register ASF cases. Furthermore, the latest premises to be infected is in the county of Gryfino, which borders Germany.
As mentioned above, Lithuania has recorded its first cases of ASF in domestic pigs this year. According to the EC, there were no outbreaks in such animals last year, and three in 2020. No details have yet been notified to WOAH.
While the EC does not monitor the disease situation in Russia, the nation's veterinary authority has reported three recent outbreaks to WOAH. All were at premises described as backyards.
As well as cases at two more locations in Ivanovo oblast, first cases were confirmed since January in Kostroma oblast. Both regions are located in the Central federal district.
Europe's wild boar total approaches 4,500
So far this year, 4,471 ASF outbreaks among wild boar have occurred in Europe, according to the EC notification system (as of July 16). Registering one or more outbreaks have been 14 of the continent's states.
Recording the most outbreaks with the EC in 2022 has been Poland (1,290), followed by Germany (1,039), Hungary (411), Slovakia (383) and Romania (327).
Since the previous EC update on July 3, Italy, Lithuania and Serbia have also registered new outbreaks though this system.
For comparison, 12 countries confirmed with the EC one or more ASF cases in wild boar — a total of 12,150 outbreaks — during the whole of 2021.
In Germany, ASF was first detected in September 2020. Since then, 4,125 wild boar have tested positive for the ASF virus (as of July 15), according to national veterinary agency, the Friedrich-Loeffler Institute. Cases in the wild population have occurred in three eastern states — Brandenburg, Saxony and Mecklenburg-West Pomerania.
As of July 15, a total of 219 outbreaks have been confirmed among Italy's wild boar population to the EC. Based on information supplied to WOAH, all cases on the mainland have so far been confined to four provinces — two in the northwestern regions of Piedmont and Liguria, and two near Rome in the Lazio region.
The EC system does not monitor the disease situation in Russia. However, it appears that another cases of ASF has been detected in a wild boar in Astrakhan, according to the latest WOAH notification. This is the first case in the wild boar population in this region of the Southern federal district this year.
View our continuing coverage of the global African swine fever situation.