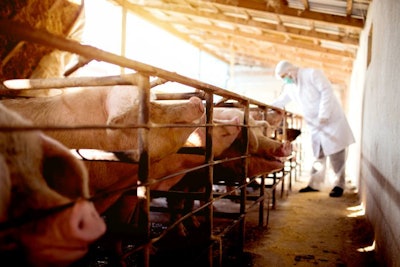 1,000 pigs at a farm in Rome's Lazio region will be culled
Italy will cull 1,000 pigs after the first cases of African swine fever (ASF) were detected in domestic pigs in the country, according to reports.
Two cases of ASF were detected on a farm in Rome's Lazio region on June 9.
"We have to slaughter all the pigs in the contaminated area very quickly," said Angelo Ferrari, who is in charge of managing the crisis. "The sooner we act decisively and incisively, the greater our hope that the commercial damage will be reduced."
To date, more than 150 wild boar in Italy have been infected with the ASF virus, and authorities have recently stepped up control measures. According to official reports, the country's first cases of ASF on the mainland were confirmed in early January in the northwestern region of Piedmont. Soon afterwards, wild boar in Genova province in neighboring Liguria tested positive for the virus. One month ago, first cases were identified in a natural park in the Rome area, also in wild boar.
Italy is the seventh largest pork producer in the European Union, with 8.9 million pigs, representing an EUR8 billion (US$8.4 billion) industry.
Last week, authorities in the Piedmont region were reported to be establishing nets to control the movement of wild boar. According to ANSA, the nets are in the province of Alessandria, where this region's cases have so far been detected. Gradually, the barrier will be moved so that it connects with a similar structure in Genova, the affected province in the Liguria region.
In Piedmont, authorization has been granted for the depopulation of wild boar.
At the end of May, there were demonstrations in the Italian capital, Rome, reported ANSA. Pig farmers and other people from all over the country called for urgent action to reduce the wild boar population. According to a recent survey, almost 70% of the population want the national population of 2.3 million wild boar to be reduced. Among the reasons given are that the animals are dangerous, a nuisance, and cause damage to crops and the environment.
View our continuing coverage of the African swine fever outbreak.