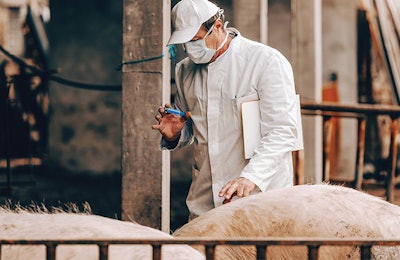 On-farm trial conducted from February to May
A trial for an African swine fever (ASF) vaccine candidate in the Philippines has shown promising results, according to the country's Department of Agriculture.
"In the trial, no clinical signs associated with ASF disease was observed and minimal non-ASF related mortality was posted. A total of 66% of sample animals have detectable antibodies to the ASF virus," Agriculture Secretary William D. Dar said during a press conference on May 16.
The Department of Agriculture (DA) collaborated with the Universal Robina Corp. and Dr. Dachrit Nilubol of Chulalongkorn University in Thailand for the "Clinical Study for the Evaluation of ASF Vaccine in Protecting Pigs Against African Swine Fever" conducted from February to May 2022.
The study, implemented at the Robina Farm in Bulacan, aimed at evaluating the safety of the vaccine and determining the ability of the vaccine to induce immune responses after vaccination.
"With the encouraging result of the Phase 1 of the vaccine trial, a Phase 2 is being proposed that will run from May to June 2022. This will involve actual viral challenge of vaccinated animals," Dar said.
The vaccine was subjected to trial and formulated in Thailand. It can be stored in a wide range of temperatures with a shelf life of two to six months.
Robina Farm Operations Director Dante Palabrica said the ASF vaccine is very important for the country's food security amid the brewing food crisis.
"We want to work with the DA, which will quickly populate our industry to bring back the pig population here in the Philippines," he said in support of the DA's hog repopulation program.
Palabrica is also confident that with the ASF vaccine, the country's hog population could be revived in the next five years.
In addition, Dar said that, if the vaccine is proven effective, he will recommend to the president the vaccination of the country's hog population at the expense of the national government.
Dar also stressed that the country must strengthen its biosecurity measures as another long-term solution.