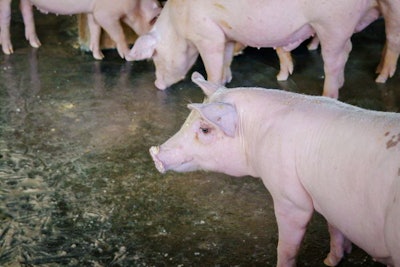 War in Ukraine and the COVID-19 pandemic are behind many of the sector's challenges as producers also tackle on-farm issues such as antibiotics reduction and disease prevention
When Feed Strategy asked experts in the swine and pig feed sectors about challenges facing the industry in 2022, the list was not short, with uncertainty as the overriding theme.
Volatility in global markets – due to Russia's war in Ukraine and the still-underway emergence from the COVID-19 pandemic – is driving many challenges, including high costs along the entire production chain, a difficult trade environment, labor shortages, inflation and supply chain disruptions.
Other pressures, such as the drive to reduce the use of antibiotics and zinc oxide, increased biosecurity to promote animal health and prevent disease, and a stronger focus on gut health, are also affecting producers.
"Usually, we can predict the market quite well," said Jessika van Leeuwen, global category manager swine, Hamlet Protein. "The global COVID pandemic has disrupted this substantially and we saw drops in consumption and prices globally that were not predicted pre-COVID. However, the current situation with Russia and Ukraine has led to a very volatile situation. One of the things that seem already quite clear is that this situation will affect the world – not only the swine business – for a long period of time. Feed prices and transportation costs were already high and are now rising even further, resulting in higher production costs that must be charged to the end user."
This view was reflected in Rabobank's Global Pork Quarterly report from April, which said higher pork prices are contributing to the uncertainty in consumer demand, while packers may have difficulty passing on higher operating costs due to expected consumer weakness.
"It is questionable whether consumers are willing and capable … to pay the higher pork prices, so there is a likely scenario where the consumption will decrease," van Leeuwen said.
But Arno de Kreij, global segment lead swine at Danisco Animal Nutrition and Health (IFF), said there is still growing demand for animal protein, including swine products.
"However, the pattern of global trade is likely to be highly volatile due to ASF (African swine fever) and we have already seen import bans for affected countries. It's also not yet clear to what extent food price increases will reduce consumer demand," he said.
Uncertainty and volatility are felt across the board, and not just in certain regions, he added.
"Every region faces a volatile market as well as higher raw material and energy prices. They are all also subject to the industry's ongoing drive to reduce antibiotics, increase sustainable production practices and improve biosecurity to deal with new and emerging health challenges," de Kreij said.
Rising production costs pressure producers
In 2021, according to the National Pork Producers Council, total pork input costs rose nearly 24%. Those costs include labor, fuel, energy, packaging materials and feed costs.
"For 2022, it's likely that input costs will continue to rise," said David Fairfield, senior vice president for feed at the National Grain and Feed Association. "Tighter global inventories of corn and soybeans, together with the surges in the cost of fertilizer and chemicals, are likely to increase volatility in feed markets in 2022."
The war in Ukraine has put significant pressure on energy costs, as well as the availability and flow of grains and fertilizers from the Russia-Ukraine region.
"The conflict in Ukraine has resulted in increased energy costs – oil and gas – that will have an effect on production costs of all feed ingredients produced in Europe, on-farm costs and processing costs in slaughterhouses, putting even more pressure on the supply chain," van Leeuwen said. "This situation demands from all of us to critically revise how grains and other commodities are being distributed around the world and how dependence on politically instable regions pose a big threat for global food and feed supply."
She questioned whether the grains supply from South America to Asia will be enough, as part of it will likely be redirected to Europe for higher prices and to fill the gap left by Ukraine and Russia.
Furthermore, she added, the limited availability of fertilizers that almost exclusively come from Russia and Belarus means crop yields will be lower because fertilizers cannot be applied as they normally would be.
Higher raw material prices are a particular problem for nutritionists, because they lead to greater use of locally sourced ingredients, which de Kreij said often contain more anti-nutritional factors.
"This is a major challenge for nutritionists who must develop feed solutions that give animals all the nutrients they need for healthy growth. Feed enzymes have a key role to play as they optimize the digestibility of dietary fiber, while reducing its anti-nutrient effects in the gut," he said.
van Leeuwen agreed that there has been an increased focus on gut health globally, as well as more willingness to invest in early life stage nutrition.
Good gut health is "more important than ever," de Kreij said, as "it plays a pivotal role in the health and development of the animals. But to be truly effective, we believe that producers need to take a holistic approach – known as nutribiosis – which considers how everything that is fed to the animal combines and interacts in the gut to improve overall performance and well-being."
Focus on animal health and disease prevention
In addition to gut health, overall animal health and disease prevention has been at the forefront of the global swine industry for several years – since outbreaks of ASF occurred in China in 2018.
"Animal health issues have been front and center since the ASF outbreaks and remain a major concern globally, but there are also significant regional issues like the challenges we're having here in the U.S. around PRRS (porcine reproductive and respiratory syndrome)," said Todd Thurman, consultant for SwineTex Consulting Services LLC.
Fairfield said swine disease continues to have a significant effect on the global and U.S. pork industry, with ASF outbreaks across Asia, Europe and, more recently, in Haiti and the Dominican Republic (see ARTICLE, PAGE XX).
"Keeping the U.S. swine herd healthy and ASF out of the U.S. will remain as one of the top priorities for the swine and feed industry during 2022. Effective biosecurity practices are necessary to safeguard swine health and protect the ability to export U.S. pork," he said.
Labor shortages have a ripple effect
A tight labor market has affected all sectors across the entire economy, including swine production.
"Labor has been an ongoing issue, but it's been exacerbated by the COVID-19 pandemic," Thurman said. "Fewer workers and higher wages have put a lot of pressure on producers. Unfortunately, I'm afraid this issue isn't going away even if the pandemic effects ease. This is all part of a larger, bigger-picture trend and I'm afraid it's very likely that these challenges will continue to worsen."
Labor shortages create other challenges throughout the supply chain, as well as opportunities to increase efficiencies in production.
"Labor is a massive issue for every industry today in agriculture. Swine production is labor intensive; feed manufacturing and delivery is relatively labor intensive," said Doug Webel, president and CEO of United Animal Health. "Today, with the labor challenges, we're getting pressure on, how do we even simplify feeding to a greater extent. … The labor challenges and the need to simplify is getting more significant."
Fairfield predicted labor would remain a challenge throughout the year, and across the supply chain.
"The challenging labor situation not only affects the ability to perform activities directly related to pork production, but also has a rippling effect through the distribution chain that ultimately impacts the global competitiveness of U.S. pork. There are no easy fixes for the current labor situation, and the shortage will be a limiting factor during 2022," he said.
Despite labor scarcity and other challenges, van Leeuwen said, the U.S. is still expected to increase its pork exports this year, perhaps even more so than previously predicted.
How can producers prepare and protect their business?
While uncertainty and volatility hang heavy over the swine industry, there are things producers can do to prepare for these conditions and mitigate their effects.
"Prepare for uncertainty by developing contingency plans throughout all steps in the manufacturing and delivery process – and encourage your staff to think outside the box to bring forward solutions," said Leah Wilkinson, vice president of public policy and education, American Feed Industry Association. "We have to adjust our way of thinking about how our supply chain existed circa 2019 and instead think about the new reality in which we are operating and prepare for that to be the reality for some time to come."
Communications is also key to tackling these challenges.
"Keep in mind that your customers, suppliers, shippers are also experiencing challenges managing their daily operations. Communicate with them – early and often – so that you can listen to their challenges and explain the 'why' behind shifting corporate policies or procedures. By partnering together, you may discover new solutions to shared challenges, which could benefit your business in the long run," she said.
Producers should have plans in place and need to utilize all the tools they have at their disposal to protect their business and be able to ride out the turbulence.
"We've had a lot of wake-up calls in the last two years and I hope we've learned the lessons," Thurman said. "Producers need solid plans for creative solutions to labor, biosecurity and disease response plans and contingency plans for potential disruptions in critical supplies, parts and ingredients. I also expect a significant amount of volatility in global markets, so now is a good time to re-evaluate risk management strategies and possibly integrating risk management more closely with other aspects of the business."