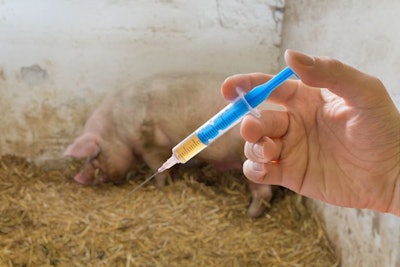 Research scientist has been recognized for his work on vaccines for African swine fever
U.S. Department of Agriculture (USDA) Agricultural Research Service (ARS) scientist Manuel Borca has been named the agency's Distinguished Senior Research Scientist of the Year for 2022.
Borca was recognized for his outstanding contributions to veterinary virology and discovery and development of vaccines against African swine fever (ASF). A research microbiologist for ARS's Plum Island Animal Disease Control's Foreign Animal Disease Research Unit in Orient Point, New York, Borca is one of many ARS researchers who have been honored for their scientific achievements.
Borca's research contributed to the vaccine development for diseases that pose threats to U.S. pork industries: classical swine fever and ASF. He conducted research focused on understanding host-viral interactions to inform the development of vaccines specifically designed to control disease outbreaks.
His research led to successful technology transfers of ARS-patented ASF virus vaccine candidates to manufacturing companies in the United States and abroad that are producing vaccines to control and eradicate ASF in Europe, Asia and the Americas (Hispaniola Island).
In May 2021, USDA-ARS said it had developed an ASF vaccine candidate that has been adapted to grow in a cell line, meaning live pigs and their fresh cells are no longer needed for vaccine production. The discovery tackles one of the major challenges to manufacturing a vaccine for ASF.
"This opens the door for large-scale vaccine production, which is a valuable tool for the possible eradication of the virus," Borca said at the time.
And, in September 2021, USDA-ARS announced that one of its ASF virus vaccine candidates is successful in blocking the spread of the disease. Research showed that ARS scientists have developed a vaccine candidate with the ability to be commercially produced while still maintaining its efficacy against Asian ASF virus strains when tested in European and Asian breeds of swine. The findings also show that a commercial partner can replicate experimental level results and prevent the spread of the virus.
Borca called the breakthrough "a major step for science and agriculture."
Borca, along with fellow ARS scientist Douglas Gladue, spoke with Feed Strategy in May 2021 about USDA's vaccine candidates and how they were developed and tested.