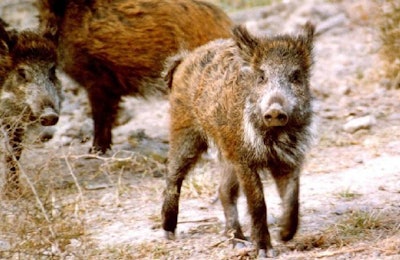 Over the past 10 days, Romania is the only country in Europe to register new cases of African swine fever in domestic pigs; cases continue to rise among the wild boar populations of Germany and 7 other European countries.
In the eastern German state of Brandenburg, the struggle to control African swine fever (ASF) began 18 months ago, in September 2020.
Since then, the infection has spread to more than 2,400 wild boar in seven districts of the state, according to the state government. A range of controls on the wild population and restrictions on domestic pigs have been largely successful in keeping the German pig sector free of ASF. Across the three affected states, just four swine herds have tested positive for the ASF virus. Affected were two commercial farms and two backyards.
Despite the successful disease controls, restrictions on farms in these states have brought prolonged hardship to producers in these areas.
Visiting one of the affected districts in Brandenburg last week, federal agriculture minister Cem Özdemir assured the region's pig producers of his support for their situation. For the past year and a half, pig farmers have been experiencing heavy financial losses, reports Schweine. These fiscal challenges have arisen from simultaneous increase in costs of control measures, and the loss of some markets for their pork. Currently, the minister's team is negotiating for more financial support from the European Union (EU).
Eight areas have been infected with ASF over an area of 4,800 square kilometers in Germany, according to the same source. Effective control measures — including wildlife fences, and the removal of fallen animals and wild boar from restricted areas — have resulted in a period of several weeks with no new cases in some areas. As a result, some restrictions can now be lifted, according to the Brandenburg minister for consumer protection.
Affected pig farmers have welcomed the evidence that federal and state governments are addressing their difficulties, according to Schweine, and working together on solutions to keep pig production financially viable.
ASF cases in German wild boar pass 3,600
Across three states of Germany, the number of confirmed ASF cases in wild boar has reached 3,614.
This is the total since the first infection in Brandenburg in September 2020. Since then, cases have also been detected in the wild boar populations of neighboring Saxony and Mecklenburg-West Pomerania.
The total comprises 2,475 in Brandenburg (as of March 18), 1,122 in Saxony (as of March 16) and 17 in Mecklenburg-West Pomerania.
Italy registers more ASF cases in wild boar
Over the past 10 days, Italy has officially reported 15 more cases of ASF in wild boar. This is according to the latest reports to the World Organisation for Animal Health (OIE).
All the infected animals were found in the same provinces in the northwest of mainland Italy as earlier outbreaks. These are Alessandria in the Piedmont region, and Genoa province in Liguria.
Latest cases bring to 67 the number of ASF-infected wild boar in Italy since the first week of January.
ASF situation in wild boar elsewhere in Europe
So far this year, 2,318 outbreaks among wild boar have occurred in Europe. This is according to the Animal Disease Information Notification System operated by the European Commission (EC) in its latest update dated March 11. This represents an increase of 141 from the previous edition on March 6.
So far this year, one or more outbreaks have now been registered through this system by 13 countries.
Recording the most outbreaks has been Poland (785), followed by Germany (452), Bulgaria (225), Romania (220) and Slovakia (174). Also registering new cases through this system were Hungary, Italy, Latvia and Lithuania.
In Poland, total outbreaks in wild boar so far this year stands at 707, according to the nation's chief veterinary office (as of March 18). Latest reports confirm 113 outbreaks in wild boar suspected in the period February 13 to March 3. These involved a total of 151 animals.
Romania reports more ASF outbreaks in pigs
Over the past 10 days, Romania's veterinary authority registered with the OIE a further 12 new outbreaks of ASF in domestic swine.
Of these, 11 involved small backyard herds, each with between two and nine pigs.
Also testing positive for the ASF virus were 3,655 animals at a farm in Calarasi. More than 30 pigs died, and the rest of the herd was scheduled for culling. Located in the southeast of Romania, the county of Calarasi borders Bulgaria.
As of March 11, eight European nations had officially confirmed one or more ASF outbreaks among domestic swine so far this year.
By that date, the region's outbreaks in these animals had reached 122 so far this year. Of this total, Romania accounted for 104.
The EC's system does not monitor the disease situation in Russia.
In the Republic of Bashkortostan, the ASF situation is now reported to be closed. This is according to the latest notification to the OIE from Russia's veterinary authority.
Part of the Volga federal district, the Republic was the location of a single ASF outbreak at the end of January. It was Bashkortostan's first ever ASF outbreak, according to OIE reports. Affected was a backyard herd of 35 pigs, 12 of which died.
View our continuing coverage of the global African swine fever situation.